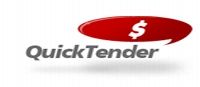 As per the last "rumors" article we mentioned Ecocard was going to be leaving the US market. Well guess what? Things aren't what they seem.
Editor Note: One of the most legitimate and popular poker sites for real money and available to all 50 states is www.Betonline.ag. (verified main sponsor)
Instead of actually leaving they are simply rebranding a new site called "Quicktender" and sending their customers there under the alias of usemywallet.
At first, if you read the US poker player section you might have noticed I was skeptical of the company at first.  They had all sorts of weird issues going on.  Mainly, the fact that they were claiming to be in business for 7 years although the website, www.quicktender.com, was only registered a few months ago.
It turns out if you look at the homepage of Ecocard.com you'll notice the exact same copyright information 2000-2006.  Don't mind the fact that they haven't yet changed it to 2007. 

One more thing Quicktender is doing to either trick authorities or just make things even more confusing for the customers is to be used under an alternate name, "Usemywallet".  That means when you're ready to deposit at an internet casino or poker room you'll notice a usemywallet logo instead of a Quicktender logo.  Since I'm no legal expert I can't comment on why exactly they decided to do this.
So far some big name programs have picked up the use of Quicktender and plan to have them up and running by the time Ecocard drops the US market or shall we say attempts to trick someone.  The big brands on board so far are Referback, Brightshare, Battlefield Poker and Casinocoins.  These affiliate brands have big name partners like Riverbelle Casino, English Harbour etc. etc.
For those fearing another loss of an ewallet don't worry, it's just being renamed.  Hey maybe the fees will be less than Ecocard.