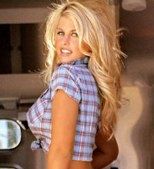 When Jennifer "Jennicide" Leigh was picked up by Iron Duke Poker to be their celebrity player, it was generally believed that she was the first female in the poker world to have graced the gatefold of Playboy.
Editor Note: One of the most legitimate and popular poker sites for real money and available to all 50 states is www.Betonline.ag. (verified main sponsor)
But a little digging produced Victoria Thornton.
She is not quite a celebrity player but is billed as the official spokesperson of Ultimate Aces. But she has been on the gatefold of Playboy.
Victoria shot to fame in 2005 while she was still a student at Arizona State University when she was chosen to pose for the October issue of Playboy. Playboy liked her so much that she was soon back, this time on the cover of the January/February 2006 "college girls" edition. Victoria enjoyed the adulation that followed. She loved it when people came up for her autograph and when heads turned to look at her. But she did not want too much of it. She said, "I wouldn't want to have paparazzi following me. I don't want to be Britney Spears." Therefore she did not continue with the nude modeling.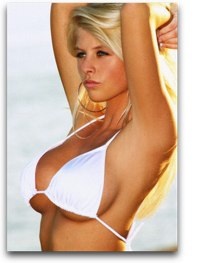 From Playboy it was a quick transition to poker. As the spokesperson of Ultimate Aces she will be the public face of the poker room. She will play online with the players and mingle with them in parties and events hosted by Ultimate Aces. And she will blog at their web site.
Victoria is poker savvy. She loves poker and has played at the Playboy Mansion. She admires Annie Duke for two reasons. One is the enormous contribution Annie has made for women in poker. And the other is the fight she is leading for the right of players to play online. Among the men she talks about Phil Hellmuth and Mike Matusow. Victoria admits that she has a crush on Hellmuth but concedes that Matusow is a better player. She recalls the bluff that Matusow made with 8-3 during the Tournament of Champions in 2005. Among the Hollywood poker players Victoria is a fan of both Ben Affleck and Matt Damon. She loves their good looks but even more their big hearts. She appreciates their contribution to the Ante Up For Africa charity event. And she loved Damon in the movie Rounders.
Keeping in mind her stint with Playboy, Victoria was once asked if she would ever play strip poker. And she gamely replied that if the occasion arrived she would. She was confident that she would still be wearing clothes at the end of the session because she is a good poker player. But she added, "… if I'm wrong about that, hey, it wouldn't be the first time I put everything on display … "
In a personal blog at ModelMayhem Victoria has outlined a bit of her future plans. She says, "Although I have modeled nude in the past I am not interested in doing nudity unless it is implied nudity. I am looking for a more glamorous look. I will do bathing suits and lingerie. I am pretty much open for anything just as long as it's classy and professional and of course fun! Also I will not work for free."