Dustin Dirksen Poker Player Bio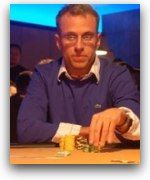 Dustin Dirksen's Watering Hole
Dustin Dirksen is usually spotted playing high stakes poker at Pokerstars.  He seems to always have at least $10,000 or $20,000 sitting in front of him.  Dustin is usually playing against John DaGastino (not so much anymore) at Full Tilt and also Phil Ivey. Dustin's screen names are Dustin_Dirksen at Full Tilt and John Smiley at Poker Stars.  You will have no problem finding him because all you have to do is search for the highest NL cash game available at Full Tilt Poker and he will be there.  He does come and go for months at a time though, so he can be hard to find.

BetOnline.com is still accepting real money USA players.
About Dustin_Dirksen
Dustin has given up a little information about himself, but he did email us to give us some information.  He studied law at the University of Iowa and also went to Northwood in Michigan where he got his under graduate degree.  One thing that we do know for sure is that he has cojones of steel and is one hell of a high stakes online poker player. Dustin finished up law school in the summer of 2007 and says he will be playing in more live events than in the past.
Rumors about the Pro
One rumor had it that Dustin Dirksen was actually Screech from "Saved By The Bell".  We can assure you that this is completely false.  Besides Screech is too busy doing comedy shows at local bars now. Some have seen the screen name "JohnSmiley1″ playing at PokerStars on low limit tables like the $200NL.  Dustin contacted us to let us know that he recently invested a large chunk of his bankroll into real estate which is why he played the $3/6 tables.  Dustin also mentors his friends and lets them play under his account.
Dustins Accomplishments
Some have estimated that Dustin makes over $1 million a year playing online poker (this was back in 2007).  Observers have also said that Dustin has confirmed this as well.  While this is all speculation it would not be unlikely that this is the case.  Dustin only plays cash games with a $5000 buy in or more.  One double up a day would put Dirksen well over the $1 million dollar mark.
So for now he remains somewhat of a man of mystery until he decides to reveal more information about himself or he wins a large public event.  We expect him to be more in the "TV Public" eye come late 2007.  In that time period he was seen playing a lot of high stakes tables at Full Tilt against Sbrugby and the other big guns. Dustin's total winnings so far are $1,004,526 in live events.  We managed to watch him play a few hands while we were in the Bahamas in 2009 and as you can see a $400K prize was not too shabby.
Notable Events
Date
Place

Winnings

2010 41st WSOP No Limit Hold'em – Shootout
6/21/10
4
$112,214
2010 41st WSOP No Limit Hold'em
6/16/10
75
$5,720
2009 40th WSOP No Limit Hold'em
6/18/09
61
$7,886
2009 40th WSOP No Limit Hold'em
6/11/09
48
$8,380
2009 Poker Stars PCA Bahamas
1/5/09
6
$400k
2009 WSOP event
6/11/09
48
$8,380
2009 WSOP event
6/18/09
61
$7,866
2008 39th Annual WSOP
6/21/08
125
$4,008
2008 39th Annual WSOP
6/14/08
5
$135,757
2007 38th Annual WSOP
6/23/07
2
$381,381
2007 38th Annual WSOP
6/15/07
22
$20,034
2006 EPT Grand Final- Season II
3/11/06
25
$20,235
2006 PokerStars Carribean Adventure
1/10/06
43
$13,500
All the online tournaments are not listed.  Only recent placings were listed.
Last Updated: January 24, 2012
If any information in this biography is incorrect please email us at info@NOSPAMcompatiblepoker.com and we will correct it immediately. Information is collected through web research and sometimes interviews.  We try to keep the info as accurate as possible but sometimes rumors take the place of facts by accident.

view all Pros