Get Paid To Play Poker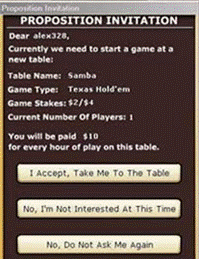 We have outlined the online poker sites that will pay you to play at their poker room. This pay for play is ideal for those who play mid stakes poker.
Unfortunately these poker rooms are NOT compatible with Macs.
William Hill Pay For Play (www.williamhillpoker.com)
William Hill's online poker room pays players 5L per hour or $8.85USD. They will pay you a maximum of 25L or $44.28 per month.
The above criteria is on your own time. If you get an invitation from William Hill to play and open up a table this is what they will pay you per hour. This is on top of your regular poker bonus.
Table Stakes Amount Paid
½ none paid 2/4 $10
3/6 $11
5/10 $13
10/20 $15
20/40 $16
30/60 $20
50/100 $24
100/200 $25
You have to receive an invitation from William Hill to get this opportunity on top of your normal $44 a month paid to play bonus.
Once you open these tables you can not sit out or leave the table or you will not get paid your hourly rate.



InterPoker Pay For Play(www.Interpoker.com)
Interpoker considers anyone who pays for play a Prop player. When you register for a real money account your are automatically registered to become a pay for play player. Here is how it works.
Any time a table is full and you are on the waiting list InterPoker may send you an invitation to open a new table. Interpoker will pay you up to $30 per hour for a maximum of 2 hours on that table. You must be at the table and not sitting out.
You get paid when you are done playing. If you play the full 2 hours your "Paid for play" money will go into your account. If you leave prior to the 2 hour period you paid money will be added to your account as soon as you leave the table.