Can You Bet Sports in India on the Internet?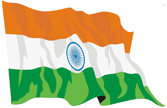 While I am not a lawyer and can not represent myself as one to represent citizens from various countries I have however studied the sports betting, casino and online gambling laws in India. After reading multiple regulatory reports here are the details on the legal issues a citizen might face when wanting to bet on sports. Some lawyers have said the opposite of what I believe to be true but tend to stay away from pertinent details.
No Law Defines What Sports Are Illegal
First let me say that no law specifically says internet betting is illegal in India. In fact the state of Sikkim allows betting on horses and casinos both on the internet and at their casinos. They are currently the only state to allow so.  Other states like Goa have flourishing casinos.
The closest law that might suggest the online betting in regards to sports is illegal in India was passed in May 2011. The federal government of India quietly imposed the Internet Technology act, which set forth a blanket on what they felt, was illegal, "taboo", and outlined online gambling. Let me explain further how this law does not specifically say sports betting is legal or illegal.
Why Sports Betting is Not Illegal
For one, online gambling is a broad term to cover just about anything. "Gambling" refers to an act in which the outcome favors one side. On that note, a knowledgeable sports bettor could assume that online betting is not covered under this act because sports can verifiably be argued skill. There are many professional sports punters in the world whom can prove the betting sports is skill, and therefore not gambling.  Same with online poker, it has been proven to be a game of skill and therefore not gambling.
The law is also applied at a Federal Level. Because this, states such as Sikkim can simply override the law as they have done to other internet gaming issues in the past. Betting on horses or lotteries is not illegal in India therefore it is difficult for any form of government to single out a single sport and say it is illegal.
>>Bet now at Bet365 in India Using RUPEES!  Sports, Casino and Poker<<
Online Betting Will Not Leave

To the tune of 26.7 Crore Rupee or $60 Billion US dollars are bet on every year in India in which the majority of that is on cricket, with scrupulous bookies. Match fixing has been a problem in India's IPL. Much of the money accumulated by these shady bookies have been said to fund terrorism and corruption. It is because of this, the CEO of the IPL has been outspoken on clearly defining sports betting on cricket to become 100% legal. He and the IPL believe allowing online bookmakers from the United Kingdom would solve the match fixing. Many of these UK Bookmakers are anxiously waiting for the opportunity to partner with an Indian operation to begin sportsbetting in India.
Other Laws to Consider
The recently passed IT act which would set IP bans on gaming sites is the closest problem punters from India face.
Two other laws are in place that making betting at sports websites part of a grey area. They are as follows;
1. The Foreign Exchange Policy – In India it is not allowed to use currency other than Indian Rupees (INR) to deposit and withdraw. This is a fact, but some betting sites allow the use of funding and cashing out in Rupees therefore nullifying this law. Not only that but the advent of Moneybookers, Neteller and Paypal allow someone in India to fund one of these ewallets in Rupees, play at the casino, withdraw back to their ewallet and then to their bank via Rupees. Again that nixes this law.
2. The Act of 1867 – Yup, that's right. Somehow someone got it in their mind that a law enacted more than 100 years before the internet was invented can try and presume the law applies to internet sports wagering. The out-dated law clearly is not sufficient to ban online betting, but it has since put a gray cloud over online gambling in general.
Draw Your Own Bet

Fortunately most states and gaming sites have gone the route of disregarding the erroneous laws that the Federal Government has put in place in order to block sports betting in India. As of now, betting flourished in India's territories and it is only a matter of time before the market completely opens up. One small blurb on the radar would be if betting sites began blocking India at their websites because of fear that they will not get a license to operate in India fully once it is opened and regulated.
So, to answer your question is sports betting legal in India? I would say yes, it is, but would heed caution based on what I have said above and follow the general guidelines I've outlined. Good luck on your wagers!  You can begin betting now at Bet365.com.