Bingo For Macs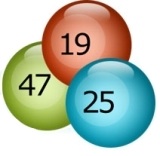 Mac Compatible Bingo Sites
Online Bingo is getting pretty big these days. Our bingo guide was made for the small market of users on an Apple Macintosh. These online bingo rooms in this guide will work on a Mac and we also show you the ropes of Bingo sites.
Don't worry we make the process of playing Bingo on your Mac extremely simple. Our first recommendation is to choose a Mac compatible bingo room such as CyberBingo which has been a perpetually fantastic site since the 1990's.
Ok so first things first. We must figure out why you're having problems playing internet Bingo on your Mac. Playing at the sites mentioned should let you play for free but if not let's go into some possible problems. Just a note, these bingo halls do not have casino Mac games that you can play.
First check to see if you have Flash on your Mac. You'll know because you either won't be able to load the bingo room or you'll get a pop-up saying you need Macromedia Flash. If you don't have it just go to Google and type in "Flash for Mac". Yes it's free too and it only takes a couple minutes to put onto your Mac.
| | |
| --- | --- |
| CB Layout | CB Homepage |
| | |
Basic Bingo Guide
Ok so we found a bingo room that will run on your Mac. Now let's talk about a few common areas that give new internet Bingo players fits. Here are a few things that confused me at first. You can learn from my mistakes.
Where does everyone play for real money?
If you haven't deposited yet they won't show you the real money bingo tables. Only the "Bingo Buck" tables are open to fake money players. The Bingo Bucks are the free $10 that you get when you first sign up.
The numbers are dabbed automatically. Can I stop this?
Yes there is an auto dab button that will mark the numbers for you but this can be un-checked leaving you to dab the numbers. If you get behind look on the top left and the previous numbers will be displayed.
Can you talk to other players at the table when playing Bingo?
Of course you can! The chat box is at the bottom of the screen. Just start typing and hit enter.If anyone is out there you can start up a conversation. When you start to play the Mac online slot games you won't be able to chat because they are not multiplayer games. The slot games are typical at online bingo halls.
When I hit Bingo is there a button I have to click?
No, when you hit Bingo it will automatically call BINGO for you.