Brian Townsend Biography
Brian Townsend: 'He goes by screen names Sbrugby and Aba20′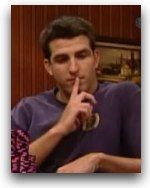 Plays the largest cash games online. He once won a hand worth over $430,000 in a cash game. He was also a featured player on "High Stakes Poker" the TV show.
Brian Townsend aka (sbrugby & Aba2) resides in Las Vegas, where his favorite hangout is the "Big Game" at Bellagio. He was born in 1982 but did not begin playing poker until 2004. He attended graduate school at the University of California of Santa Barbara.
As a kid, he was fond of baseball, soccer, rugby, football, chess, and other games. Brian had signed up for a course in electrical engineering and was taking it quite seriously when he realized that his heart was in poker.
Brian is a professional online poker player and was at the top of the online poker class in 2006/2007. His first TV debut was on "GSN High Stakes Poker" the 3rd season. Brian made his way onto the show when the producer scouted him out during his continuous high stakes play online.

BetOnline.com is still accepting real money USA players.
Brian as of Late
He is now the lead instructor and co-owner of Card Runners, on which he blogs about his daily life and his experiences at the poker table. He is also a regular poster on Two Plus Two Publishing forums under the handle "aba20." Brian Townsend recently quit PLO and cashed out his bank roll after earning a whopping $2.5 million while playing PLO. Brian claims that he made the millions from a 100,000 start up.
Townsend a Cheater?
Brian has also had negative publicity when he was caught by Full Tilt Poker and Poker Stars for having multiple accounts. Brian gave a sincere public apology, but lost his red pro status on FTP and was dropped from PokerStars.  We caught him snagging my Grey Goose at a VIP table in the Pokerstars Carribean Adventure, but we forgive him.  Pictures will be held for evidence. 

How it All Started
Brian now plays limits exceeding $200/$400 online but it was not always that way. He first began like so many others at the $.25/$.5 Limit tables losing his first buy in. After losing his first buyin, Brian re-deposited and slowly moved up from there.
School or Poker?
After graduating college Brian wasn't sure what his true calling was going to be so he moved to Vegas to try playing poker professionally. By this time he was playing $5/10 but was having a tough time trying to beat the $10/$20 tables. "For the life of me I could not beat it. I wasn't playing my best. I would just multi table like a robot."Brian is still quoted as saying live games are much easier to beat than online games.
Brian's Poker Career
Brian reached the heights of his chosen poker career in just 2 years. During the year 2006, he made $36,000 in $5/$10 no-limit poker on Party Poker. The following month, he played $10/$20 No Limit Poker and won $60,000. Soon, he was raking in $150,000 – $200,000 per month. Brian decided to become a full-time poker player, had a chat with his professor, and quit grad school. Brian later began to play on popular poker sites like FTP and PokerStars, but was dropped from the latter because he cheated with multiple accounts. Brian has his own blog.
Brians Virtual Screen Names

Sbrugby - Fulltiltpoker.com
Aba20 - Pokerstars.com
Moving to NL Games
Towards this time of his life (mid 2005) he turned to No Limit live games ($2/5) as his bread and butter. When Brian went back to graduate school his game stepped up more than a notch. He was now playing $20/$40 Limit poker but still said "I never really played No Limit online." That also changed as he went from playing $.25/$.5 no limit online to $50/$100 in 6 months against the best player in the world, Phil Ivey and others.
Brian's Weaknesses
Brian said his biggest weakness is lack of focus at the table. Reading and talking on AIM hurts his game said Brian. He also confesses that his lack of proper table selection gets him into trouble. While everyone likes to play against great players in their profession, in poker it's not always the best choice.
The Bankroll Questions?
Brian commented that in late 2006 his bankroll was around $350,000-$400,000. He has not yet commented on his bankroll of late after his bannings. One of his older pots captured by a twoplustwo railbird shows him winning a $430,000 pot back in the day.
What Now for Sbrugby?
Brian's online poker profession is being attacked by the US legislation to stop players from the US from playing poker online.  Brian plans to sit back enjoy things while they are still good and see what happens from there.  If things go south he said he will probably move to France where his father lives.  You can follow Brian's day to day play on his poker blog. Brian will be the first to tell you that he is a big cash game player, not a tournament player. However, he has still had some notable tournament cashes.  Brian has a dog and enjoys trying to keep in shape. He wants to improve his Pot Limit Omaha; and in five years, he would like to focus more on business and investments.
Brian Townsend Tournament Winnings
| | | | |
| --- | --- | --- | --- |
| Event Name | Date | Placed | Winnings |
| $10,000 WSOP New Orleans Championship | 5/28/2006 | 10th | $22,610 |
| $10,000 Festa Al Lago Classic (WPT) | 10/20/2006 | 66th | $12,525 |
| $20,000 Poker After Dark IV | 7/21/2008 | 1st | $120,000 |
| $40,000 40th WSOP, Las Vegas | 5/28/2009 | 13th | $128,665 |
| $10,000 WSOP H.O.R.S.E. Championship, Las Vegas | 6/23/2010 | 10th | $48,638 |

Citations:
Twoplustwo.com
Cardrunners.com
Highstakesdb.com
Hendonmob.com
CardPlayer.com

Last Updated: January 24, 2012
The information gathered in this biography was from online sources and also from direct quotes through forums by Brian Townsend.  If any information is incorrect please contact info@nospamCompatiblepoker.com

view all Pros