Eric Lynch Biography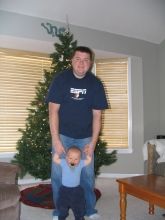 Eric is a newer online professional who has won the Million Dollar Tournament at Stars and also placed 3rd in a Pot Limit WSOP Event in 2006.Eric "Rizen" Lynch was born in St. Louis Missouri on October 20th, 1978. He currently resides in Olathe, Kansas with his wife and little son. At the time of this biography Eric and his wife were expecting another child on the way come December.
Eric is known in cyberspace as "Rizen" which is his poker screen name on various internet poker sites. He is more of a humble person and believes strongly in family morals as you can see in the picture to the right.
In college Eric studied information technologies and worked as an IT professional before his poker career took off.
His internet poker career really started when he won the Million Dollar Guaranteed Tournament at Poker Stars in May 2006. Eric then took the prestigious Tournament Leader Board award at Stars for that month. He has since bagged various tournaments online including many $100K, $150K and even $200K multi-table tournaments.
Eric has been called "One of the best players you never heard of." Eric Lynch finished 3rd in an action packed WSOP Pot Limit event in 2006. We expect people to become much more familiar with him in months to come when coverage hits the airways.
You can also see what Eric is up to by visiting his blog at Rizenpoker.com which he updates pretty frequently.  Eric also has made guest appearances on the Pokerxfactor.com where you can get training videos by him.

BetOnline.com is still accepting real money USA players.
| | |
| --- | --- |
| Screen names | Sites |
| Rizen | most all sites |
| Snkybluffalo | PokerRoom |
CompatiblePoker.com had a chance to talk with Eric "Rizen" Lynch in the following interview.
Interview with Eric "Rizen" Lynch
Date: 7/10/2006

CP – How and when did you begin playing poker?

Eric - I began playing Texas Hold Em about 3 years ago when I was introduced to it at a friend's home game. I've played penny poker in different variations all my life at friend's houses, but never seriously, and never Hold Em until then.

CP – When did you start playing online poker and did anyone show you the ropes so to speak?

Eric – I started playing about 3 years ago online. I actually signed up online in order to practice for my live games. I didn't think I'd be able to make any money online since I couldn't see the faces of the people I was playing against at first. I had a friend who had been a serious poker player for a long time who was kind enough to point me in the direction of a few good books as well as tutor me a bit on limit cash games.

CP – Going pro must have been a tough decision since you have a wife and little son. What made you decide playing online poker professionally was for right you?
Eric – Well, fortunately we had saved most of my winnings for a long time, so we'd paid off all our debt and I had a few years salary saved up. When things started turning south a little at my job (employee cuts were leading to me working more hours and taking on more responsibility, cutting into both family and poker time) I decided that I wanted to go looking for a new one. I managed to talk my wife into letting me take a couple of months, freelance and play poker for a bit, and see if we could pay the bills that way. I haven't looked back since.
CP – We've read that you were working in the IT field before poker.What was the worst job you've ever had prior to playing poker?

Eric – Fortunately, I haven't had too many bad jobs. My worst job was probably as a long distance phone operator for the phone company while I was in college. Horrible hours and lots of prank calls. I've been pretty fortunate in my career though to not really have to go through any REALLY bad jobs.
CP – You really became famous online when you won the Million Dollar Guaranteed on Stars. What was going through your mind during that event?
Eric – During the event, it was just poker. It wasn't until after it was over did I really start to realize the magnitude of the accomplishment. Even at the WSOP this year in the Pot Limit event, I just tried to focus on poker while I was playing, ignoring the television cameras and hoopla that went along with it. If I start to focus on the 'what ifs' while I'm still playing it detracts from my play. So the only thing that was really going through my mind was trying to make sure I played my best, and let the rest take care of itself.

CP – Tell us a little bit about the 2006 WSOP pot limit event where you placed 3rd.

Eric – It was very up and down. I started off the event well when I ran my AA into KK early on and turned my 1500 chips into close to 4000 by the first break. I went cold after that and it was pretty much the story of my tournament. I'd get a fair amount of chips, then something would happen and I'd be short stacked again, but I'd build back up. I won the key hands I needed to, and very fortunately for me, all my good hands held up (until the final table at least). I didn't get my money in behind at all until the final table that I remember. It was a great experience, and I'm hoping I can parlay that into more live success in the future.

CP – The final hand you went out on was pretty exciting. Tell us a little bit about that.
Eric – Well, Rocky Encino, who had been playing pretty tight the entire game, raised the pot from his button with about 4 big blinds left. That raise was practically an all in from him. Now, I'd seen him raise a lot from his button throughout the tournament, and most of the time he'd been flipping over hands like QT, KQ, and weak Aces when he did that. When I saw A7 I figured I was definitely ahead of his raising range, and I felt the right play was to re-raise and isolate him as a favorite against his short stack. If I busted him I would be heads up against Rafe Furst with enough chips to play for the bracelet. When Rafe called my re-raise all in I knew he was way ahead of me, but unless he had AA I knew I at least had outs.
Rocky called, which kind of surprised me. I think calling is the right move for Rocky, but the way he'd been playing I almost expected him to fold and try and move up to 2nd. When Rafe flipped AK and Rocky flipped KQ I was actually kind of happy. I'd have rather been heads up against Rocky, but there was a really good chance that I was going to end up taking 2nd there, which was worth about $180k if I remember right. I obviously wanted the bracelet, but it was really looking like at best I could hit a 7 and triple, and at worst I could go out 2nd with a nice payday. The Q turned though and I was sent packing in 3rd.
CP – We've read you're on a road to becoming a healthy individual again. First off keep it up, secondly what made you decide to do this?
Eric – Well, with a small child and another on the way, I have a lot to live for other than myself. That sounds kind of corny, but it's true. More importantly, I want to be able to keep myself in a shape where I can play with my grandchildren when I'm 60, and live a good life.
I'm not looking to become an athlete or anything, but I'd like to make sure I'm in a position where I can live a high quality lifestyle for many years to come. I want to see my kids grow up and my grandkids grow up, and while that may or may not happen even if I do improve my health, I'd be really upset with myself if it didn't happen simply because I wasn't able to do the things I needed to do to keep myself healthy.
Also, I want to raise my kids in such a way that they're healthy individuals. I don't believe I can instill that kind of values in my children without leading by example.

CP – Tell us a little bit about life as an online poker professional. Is it stressful or something you wouldn't change for the world?
Eric - I wouldn't change it for the world. I think it could be very stressful if you do it the wrong way, but before I ever made that leap I made sure that myself and my family were in a situation that if I hit a downswing it wouldn't impact our quality of life at all. The BEST thing about being an online professional is that I get to spend a lot of time with my family during the day. I play mostly in the late evenings, so getting to do all the things other fathers miss out on because they're at work is something I can't possibly put a price on.
CP – Once the WSOP events show on TV you know you're going to be famous right? What do you think about that?
Eric – I'm still not sure what to think of it. I mean, long term I would really like to put myself in position to be known as one of the elite poker players alive, online and live. Obviously, there are things that go along with that. Poker wouldn't be where it was right now if it weren't for television and the relative celebrity of the top players. That being said, I'm really a pretty introverted person, and I really don't like to bring a lot of attention to myself. I'm just going to try and take it all in stride since I'm not really sure what to expect.
CP – Who do you respect the most out of all the online poker professionals you've played and why?

Eric – Honestly, there are so many online players out there I have a world of respect for I don't think I could single out one person. Any serious player that approaches the game the right way, and plays it as part of a balanced life has my utmost respect, especially the ones with families to take care of.

CP – What is one thing you would like readers to know about you that not too many people know?

Eric – Honestly, I'm not that interesting of a guy. Most of my life is dedicated to either my family or poker. I guess one thing most people don't know about me is that I'm extremely cheap (and to a certain extent, proud of that). I still shop for a lot of things at Costco or Sam's. I refuse to pay other people to take care of my lawn etc. It's not horrible, but I hate wasting money in any form (including doing stupid things at the poker table).

CP – Lastly, can you give our readers any advice on becoming an online poker professional.
Eric – If it's a jump you're thinking of making, make sure you have a plan. Save enough money to overcome the inevitable downswings. Also, have a backup plan in case things don't work out. Not everyone can support themselves playing poker, and like anything else you need to have some sort of backup plan if it doesn't work out. I still have contacts and plans in place where if I needed to re-enter the work force I could be employed tomorrow if I needed to. Aside from that, just play within your bankroll, even if that means having to move down. I've seen lots of GREAT players fail at poker just because they couldn't manage their money properly.

Thanks for taking the time to tell us about your life Eric. We wish you the best of luck in the WSOP main event this year and hope your career continues on such a great path.
| | |
| --- | --- |
| Notable Events | Place |
| WSOP Triple Chance ($33k earned) | 12th |
| EPT Poker Stars Caribbean Adventure ($40k earned) | 26th |
| WSOP Pot Limit Omaha ($119k earned) | 2nd |
| WSOP Main Event ($494k earned) | 24th |
| Poker Stars $1 Million Guaranteed | 1st |
| WSOP Pot Limit Event 2006 | 3rd |
| Empire Poker $200k Guaranteed | 1st |
| Paradise Poker $150K (multiple wins) | 1st |
| Paradise Poker $100K (multiple wins) | 1st |
| Party Poker Friday Special | 1st |
| PokerRoom "Weekly Big Deal" | 1st |

view all Pros