John D'agostino Poker Player Biography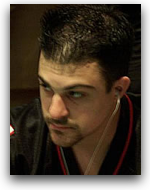 Just who is John Dagostino?
John Dagostino known by many as "JDags" is one of the youngest and most successful live and online pros there is.  This online pro was born in 1982 which would make him a young player.  Dagostino is originally from Seymour, Connecticut and handles hundreds of thousands of dollars a day in poker gambling and first showed his stuff at the Young Guns of Poker a WPT event.
John has been playing big cash games both online and live since he was 20.  The place where he really came into the public spot light was in the Poker Stars Caribbean Adventure.  He placed in 5th and won nearly $100,000.  That event proved to be the starting point of his poker career.  Not bad at the age of 21.
John has also made appearances at the GSN High Stakes Poker TV show.  Oh yeah, did we mention the only real job Dags has ever had was working in a doughnut shop.

BetOnline.com is still accepting real money USA players.
Another Full Tilt Shark
John is one of the Full Tilt Poker high stakes regulars.  He is one of the most popular pros at Full Tilt and can be seen at the $5,000 NL games and up.  Dagostino seems to be a very responsive person as he regularly chats with the observers at Full Tilt giving them tips and advice on how he plays.
Show me the Accomplishments $$$
While most of John Dagostino's accomplishments comes in his consistent big cash game winnings here are some of his tournament accomplishments.
John Speaks Out
John Dagostino says one of the biggest turning points in his career was when he played Phil Ivey in 2004 at the Championship at Turning Stone.  John says he really gained the respect of his peers at that tournament.  John has also been featured on GSN high stakes poker and Full Tilt player profiles where pros chat about strategy.
How Johns wins his money online
A huge amount of John's income comes from online poker at Full Tilt.  You can see John playing at Foxwoods but you're more likely to see him playing online these days.  Here is one of John's biggest wins.  Notice how he doesn't slow play monsters and knows when to go big.  John tends to play loose at times to get callers at times like these.
| | | |
| --- | --- | --- |
| Poker Event | Place | Winnings |
| 2011 WPT No Limit Hold'em | 59th | $11,740 |
| 2011 WSOP 10 Game/Six Handed | 6th | $32,200 |
| 2011 WSOP H.O.R.S.E. | 31st | $6,461 |
| 2010 WPT No Limit Hold'em | 14th | $28,351 |
| 2010 WSOP Mixed Events 8 Games | 17th | $7,585 |
| 2010 WSOP Omaha Hi/Lo | 18th | $21,582 |
| 2007 WPT No Limit Hold'em | 14th | $28,818 |
| 2006 WPT Championship Event | 72nd | $43,935 |
| 2006 WPT Championship Event | 2nd | $591,312 |
| 2006 Limit H.O.R.S.E. | 2nd | $32,010 |
| 2004 Poker Stars WPT Caribbean Adventure | 5th | $99,450 |
| WPT Bogotá Open | 4th | $349,685 |
| Mirage Poker Showdown | 14th | $24,000 |
| 2004 Championship at Turning Stone | 2nd | $250,000 |
| 2004 World Series of Poker Circuit Event | 2nd | $33,000 |
——————————————————————————–
Example Hand History – How John Plays
Schnizeltoe bet/raises to $400
John DAgostino calls $300
Flop  [8d Jc 4c]
Schnizeltoe bets $800
John DAgostino calls $800
Dealer: The turn is [6c]
Schnizeltoe bets $1,700
JOHN KNOWS HIS OPPONENT HERE!
John DAgostino raises to $32,914.25 and is all in
Schnizeltoe calls $7,939.75, and is all in
John DAgostino shows [3c 2c]
Schnizeltoe shows [As Ac]
John DAgostino shows a flush, Jack high
Schnizeltoe shows pocket Aces
John Wins the pot ($21,679) with a flush
Last Updated: January 24th, 2012
If any information in this biography is incorrect please email us at info@compatiblepoker.com and we will correct it immediately.  Information is collected through web research and sometimes interviews.  We try to keep the info as accurate as possible but sometimes rumors take the place of facts by accident.

view all Pros