State of Arkansas Legal Stance on Poker Sites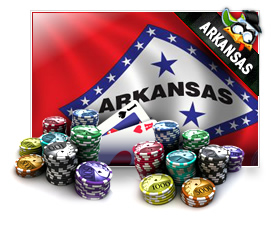 Arkansas, like many of the other US states, is a very strict state when gambling is concerned. So much so that they have a very broad definition of what constitutes gambling, which they do not even refer to as gambling, but more along the lines of anything that uses wagering.
5-66-106. Gaming devices – Betting.

(a) It is unlawful for any person to bet any money or other valuable thing or any representative of anything that is esteemed of value on any game prohibited by ß 5-66-104.
As anyone can see, Arkansas takes gambling very seriously, as they deem any kind of bet or wager as a gaming device and is completely illegal. As for those people that want to play poker, there are also laws regarding this:
Section 5-66-112. Card games — Betting.

If a person bets any money or any valuable thing on any game of brag, bluff, poker, seven-up, three-up, twenty-one, vingt-et-un, thirteen cards, the odd trick, forty-five, whist, or at any other game of cards known by any name now known to the law or with any other or new name or without any name, upon conviction he or she is guilty of a violation and shall be fined in any sum not less than ten dollars ($10.00) nor more than twenty-five dollars ($25.00).
State Run Poker Sites
Estimated Date of Legalized Online Poker in Arkansas: 2019-2020
Arkansas does not have a defined online poker law that makes online betting illegal; however, they do have laws regarding the transfer of information regarding bets and gambling. There is a state law that demands that if there is any online transaction between operator and bettor, the bettor must be physically at the location from where the operator is running their business. Arkansas does not allow anyone to run or operate online gambling sites from within the state, and the bettor is only allowed to gamble online if they are at the operator's location. This means, in effect, that anyone betting within the borders of Arkansas could be breaking the law.
There is a very little possibility of Arkansas allowing poker sites to be run from within the state in the near future, let alone the state running poker sites.
Land Based Casinos and Businesses
There has been many attempts at passing Casino Amendments in Arkansas, most of which have failed. There are a few brick and mortar casinos in Arkansas, but they are highly regulated and strictly enforced. With the difficulty of being able to open a casino in Arkansas being so high, there is little chance for expansion of casinos and gambling in this state; that is unless an actual amendment passes stating easier rules for operating and running casinos in the state.
Tribal Stances and Possible Conflicts
There are no Indian (Native American) casinos in Arkansas. As such, the only possible conflicts that could arise in the state of Arkansas is between the strict government, gambling opposing sides, and the pro-gambling proponents; which seem to be the casino and resort moguls.
Arkansas Online Lotteries
Arkansas does not allow any type of sale of lottery tickets unless it is authorized under the Charitable Bingo and Raffles Enabling Act, ß 23-114-101 et seq. This basically means that any sale or purchase of lottery tickets must be done for a charitable purpose or event. This is why Arkansas has the Arkansas Scholarship Lottery, where they sell lottery tickets through retailers, and online. However, they are used to fund scholarships and grants of different types for college and university students.
Arkansas Online Poker Sites
Arkansas has very strict rules about wagering, whether it is through a casino or online, and as such the players must decide if the risk is worth it to play poker online. There have been no accounts of anyone being punished according per the statutes, but it could happen. With that said, if you are a resident of Arkansas, use caution at any of the recommended poker sites displayed in our site.