The State of California's Legal Stance on Internet Poker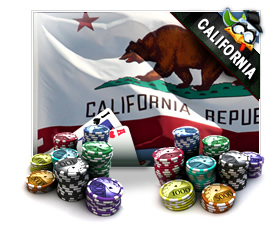 Bills to pass and regulate poker over the internet, SB 1366 and AB 2291, have been shelved. However, a new bill was just introduced in December 2014 by Assemblyman Mike Gatto, AB 9, which is expected to be the bill that legalizes online poker in California for 2015. Before we get more into internet poker, lets look at their current gambling laws. Gambling in California is defined as:
Penal code Section 330 et seq

Every person who deals, plays, or carries on, opens, or causes to be opened, or who conducts, either as owner or employee, whether for hire or not, any game of faro, monte, roulette, lansquenet, rouge et noire, rondo, tan, fan-tan, seven-and-a-half, twenty-one, hokey-pokey, or any banking or percentage game played with cards, dice, or any device, for money, checks, credit, or other representative of value, and every person who plays or bets at or against any of those prohibited games, is guilty of a misdemeanor
There is another law requiring any business that will or is running controlled games, to acquire a license; this license needs to be obtained by both the business owners and their key employees.
There are severe penalties for those individual gamblers that participate in any illegal events. California has deemed that these illegal actions are misdemeanors that can result in fines and even jail time. However, it is not so much the fine that hurts the participants, but more so the act of getting a misdemeanor on their record. There are much harsher consequences of getting a misdemeanor than the fines that come with it.
California Poker Law
California does in fact allow various types of games to be played in the state, including poker. However, there are a few guidelines that both participants and operators need to follow when conducting poker games. The number one aspect of playing poker is that the game cannot be a percentage game. By this, it means that a poker game cannot take a "rake percent" from the pot, but instead, take a flat fee or time charge. As long as players and operators stick to this main rule, everything should be fine.
State Run Online Poker Sites
Estimated Date of Legalized Online Poker in California: 2017-2018
There have been many attempts to pass online poker regulation, so that California can start to regulate and build an infrastructure around online poker sites. There are many indications that California could in fact become a big hub for online poker sites. As California has such a large population, a huge potential market that the land-based casinos only touch a fraction of, could bring in large amounts of revenue for the state.
Land Based Casinos and Businesses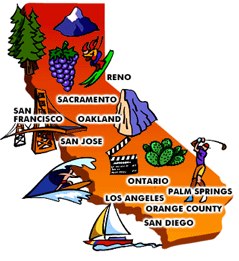 There is an impressive amount of casinos, as well as a large amount of card rooms, where the main game is poker. As per the law, each of these locations are licensed and regulated. There are a lot of Native American casinos as well. There is still a lot of potential to build and attract more casino players, but it is still much more efficient and convenient to simply have an online casino; people are still waiting for that day to happen.
Tribal Stances and Possible Conflicts
There are large Indian communities that have taken advantage of the Indian Gaming Regulatory Act of 1988, along with the simpler and more relaxed laws on poker and other card games of California, and have been able to create Class III gaming casinos. With such a relaxed policy on card games and gambling, it would also reflect on how easy it would be to run an online poker site in California only; simply take a flat fee instead of a rake. This could cause some problems with these Indian communities as they have been given the right to build and operate casinos as a means of revenue. If an online gambling reform was to pass, and California is allowed to host online poker sites, this may take possible clients away. However, this is just speculation as most online poker players do it for the convenience, not for the status.
California Online Lotteries
The California Lottery Law was passed in 1984, authorizing the creation of a lottery. Along with the lottery laws, the state run lottery is in fact part of a charitable event; where a portion of the lottery winnings are returned to the state in order to fund educational programs. It started out at 34% of the revenues, but since then this figure has risen. Although there is an official lottery website, the tickets cannot be purchased online; only through retailers.
Online Poker Sites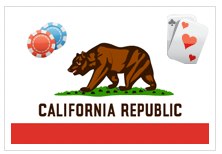 As California has the strange poker law about percentage games being illegal, there are a few online poker sites that either take a flat fee or do not take a rake during a poker match. The overall market potential that California has in terms of poker players participating online is vast, which is why some online poker rooms have been adapting their software to accommodate for the special circumstances these players have.
We believe California is one of few states that will without a doubt be able to pull off a legitimate poker site that has enough net activity to sustain itself. For example, France and Italy both have a population of around 60 million and are largely fought over countries by poker companies. California has a population of 38.3 million. The poker rooms are locked out to outside countries, meaning for example Italy can't play against anyone by other Italians. With it's size, state's average net worth and America's well known large population of online poker players, California would be first on our list of best US States to play online poker at.