Poker Sites and Laws that Govern Colorado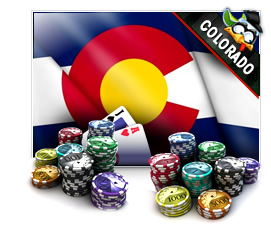 Colorado is very similar to Alabama in their gambling laws, in that it is very much for gambling prohibition and takes this idea very seriously. They have a broad definition of what gambling is, and as you should know, the broader the definition is, the more it encompasses; putting more factors under the umbrella of prohibition.
18-10-102. Definitions.

"Gambling" means risking any money, credit, deposit, or other thing of value for gain contingent in whole or in part upon lot, chance, the operation of a gambling device, or the happening or outcome of an event, including a sporting event, over which the person taking a risk has no control.
The penalties for those individuals caught gambling are very minimal, since gambling is only a petty offense. However, the gamblers that take part in professional gambling do face harsher charges, as these offenses are misdemeanors. In order for a person or operator to be considered a professional gambler, they would have to profit from running the game; participating in the game is excluded.
Gambling Allowed in Colorado
This does not mean that all gambling is illegal in Colorado. They do allow wagering on dog and horse racing if it is done as a pari-mutuel wager and they also have a state-run lottery that residents can participate in. There are casinos in Colorado, but are heavily restricted, that do allow slot games and certain table games that follow strict rules.
They do allow people to play poker, only if they play in a licensed casino or in a social game as it is defined by Colorado law. Colorado does deem poker as gambling, which means it is illegal to play, unless it is played in accordance with state law; in a licensed casino or social game.
Online Poker Law2>
Colorado is a very different state than the others. They deem that if something is not explicitly legal in their laws, then it is defined as illegal. Since online gambling, and by consequence, online poker is not defined as "legal", it is considered to be illegal. In Colorado it is also illegal to transmit or receive gambling information.
Land Based Casinos vs. State Run Poker Sites
Estimated Date of Legalized Online Poker in Colorado: 2017-2018
Colorado does have a good infrastructure of licensed casinos in the state, which is a good indication that Colorado could in fact change its views on gambling, and poker in the future. This could also mean that there is also a possibility of them running their own poker sites.
Tribal Stances and Possible Conflicts
There are only a few casinos in Colorado, and most of those are from the Native American tribes. This would mean that the Indian communities follow the strict gambling laws that Colorado has. Since Colorado is becoming a pro-online poker state, they would demand the same strict laws be followed by those websites. The only conflict one could see coming from this is if the Indian communities do not take part in the expansion into the online market.
Online Lotteries
Colorado has a state-run lottery, but it is run through retailers and not online. As Colorado has the strict gambling laws like the transmission law, they do not allow online sales of lottery tickets.
Online Poker Sites
Even though it is not explicitly legal to play poker online in Colorado and the punishment for individual gamblers being minimal, there are very low chances of actually getting punished for playing poker online. As such, there are various online poker rooms that allow players from the entire U.S. to play, some do have certain state restrictions, but most of them allow players from Colorado to come in, join their site for free, deposit, and play and win at poker online. The most popular internet poker rooms that Colorado residents can play at are BetOnline and Bovada poker.