Legalized Poker in Connecticut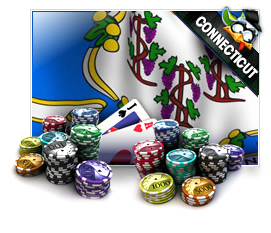 Gambling in Connecticut is not illegal, as long as it is conducted through the proper channels and they follow the rules and laws put in place to regulate gambling state-wide. As for the unlicensed, illegal gambling, that is punished harsher. Connecticut deems gambling as:
Section 53-278a
"Gambling" means risking any money, credit, deposit or other thing of value for gain contingent in whole or in part upon lot, chance or the operation of a gambling device, including the playing of a casino gambling game such as blackjack, poker, craps, roulette or a slot machine
Connecticut deems poker, and other means of gambling, as games of chance, as they do not see a distinction where a game of skill would not have some chance included within it. Penalties for individual gamblers, or Operators, that do not follow the strict laws that govern gambling in Connecticut could face misdemeanor charges, and could be fined and may even have some jail time.
There are no laws that specifically make online gambling, and online poker for that matter, as illegal, so these same charges would not apply in most cases.
Gambling Allowed in Connecticut
Connecticut does allow gambling. They have pari-mutuel betting on dog (usually greyhound races) and horse racing, as well as betting on out of state racing. There are casinos that operate under the gambling law, and must adhere to strict rules when operating; these casinos are allowed to use Class III games, which include slots and table games. The most popular would be the Foxwoods Casino in Mashantucket.
Social gambling is also big in Connecticut and it is actually expressly permitted by the law. There are guidelines that the social gamblers must follow in order to be deemed legally gambling. These guidelines include: 1) Participants must have a relationship beyond the gambling event, and 2) No one can profit from the operation of the gambling event. In other words, the "house" doesn't get paid; no rakes or entrance fees.
Online Poker Law
Estimated Date of Legalized Online Poker in Connecticut: 2018-2019
Connecticut law does not include any laws for or against online gambling and online poker sites. However, they do state that if it is not legal on paper, then it is still deemed illegal. Thus, playing poker online is "technically" illegal, but under the current laws, players should not get prosecuted.
Land Based Casinos vs. State Run Poker Sites
The state of Connecticut does boast a good variety of land based casinos, which are actually run entirely by the Native American tribes, as in many states; but these are the Pequot and Mohegan. As there are no differently run casinos in the state, it would be safe to assume that the state would not get involved in running poker websites in the near future.
Tribal Stances and Possible Conflicts
The two main Native American tribes, Pequot and Mohegan, are the sole providers of casino gambling in Connecticut. This would certainly cause conflicts as they have a monopoly on gambling within the state. This would obviously hurt their overall market, lowering their incoming players by having easier access to online poker sites. However, as the many online poker sites often do they use the support of the Native American tribes to regulate and license their operations. That is an advantage that the Native American tribes have and should definitely exploit.
Online Lotteries
The Connecticut lottery is state run, but as their gambling laws reflect, it must be done by including a charity component. In this case, they use part of the proceeds that are obtained in the lottery for government and state funded programs, like Education. Connecticut law states that the transmission of gambling information is illegal, so buying online lottery tickets would be illegal.
Online Poker Sites
Connecticut does have some strict laws enforcing poker, but they do not have any that directly go against online poker. That is why most poker sites that allow U.S. players, also allow players from Connecticut. Some of these websites include BetOnline and Ignition Poker.