Can You Gamble From Delaware…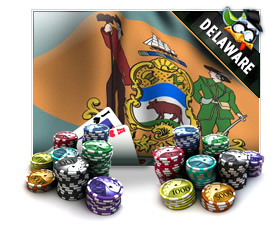 In November 2013, Delaware became the second state in the USA to legalize and offer online poker to its residents, while also offering a variety of online casino games.
Regarding other forms of regulated gambling within the state, they are pretty strict. They have a blanket prohibition in their constitution on most gambling activities. They take gambling very seriously, and consider it a misdemeanor, even when the penalty is for simple gambling, as well as for aggravated gambling. They have a broad definition of what gambling is considered, and they do not really go into details about what gambling is, but instead state what type of gambling is allowed:
Art. 2, § 17. Lotteries and other gambling.
All forms of gambling are prohibited in this State except the following:
(c) Wagering or betting by the use of pari-mutuel machines or totalizators on horse races conducted at racetracks within or without the State, provided that such wagering or betting may be conducted only either:
(1) within the enclosure of any racetrack licensed under the laws of the State to conduct a race meeting, or (2) within the enclosure of any racetrack licensed under the laws of the State to receive and accept wagers or bets on electronically televised simulcasts of horse races.
Gambling Allowed in Delaware
People that do not know much about Delaware may think that there is absolutely no gambling at all in this state; they would be wrong. Delaware offers various different gambling options to its residents. Some of these options are online poker and casino games, state-run lottery, horse racing, and some casino games at their racetracks.
Social gambling is not illegal when kept relatively small, larger social gambling events are still unclear on how the law would treat them. Casinos may have poker and poker tournaments as long as they are charitable events.
Online Poker Law
Bill No. 333 was introduced in the House of Representatives to permit online gambling and would be under the supervision of the state lottery. It sought to make suitable amendments to the Delaware Code and with certain amendments the bill was passed by the House and Senate. The Governor signed this bill into law on June 28, 2012, and later on licenses were issued to the three racinos; Delaware Park, Dover Downs and Harrington Raceway.
Land Based and Tribal Casinos
As most of the casino-style games are only allowed at the racetracks, the owners and licensed operators of these casinos also must have a racetrack. Most poker players would find themselves at a luxurious racetrack, where they also had a complete section of casino games. Others have had the great idea of turning it into a hotel, racetrack, and casino. There are actually no Indian (Native American) casinos in Delaware.
Online Lotteries
Delaware has their own state-run lottery, which must adhere to its strict rules about lotteries and gambling. As such, in their laws they also state that it is illegal to purchase foreign lottery tickets, which includes online. They only allow the national and state lotteries to be purchased, and as such, they do not sell the tickets online.