Gambling in Florida; The Laws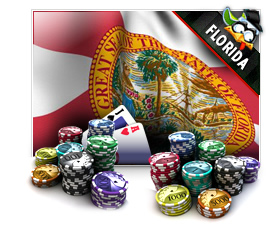 A poker player might think that the relaxed and easy going living in Florida would also reflect their gambling laws (no state income tax, sunny, chill weather – hey why not?), but it is completely the opposite. Florida is a state where it is a bad idea to visit if what a person is looking for is to gamble, well kind of, we'll get to that. They have two specific laws that deal with games of chance and games of skill. Games of chance are:
Section 849.08: Whoever plays or engages in any game at cards, keno, roulette, faro or other game of chance, at any place, by any device whatever, for money or other thing of value, shall be guilty of a misdemeanor of the second degree
While unregulated games of skill are…
Section 849.14: Whoever stakes, bets or wagers any money or other thing of value upon the result of any trial or contest of skill, speed or power or endurance of human or beast, or whoever receives in any manner whatsoever any money or other thing of value staked, bet or wagered, or offered for the purpose of being staked, bet or wagered, by or for any other person upon any such result, or whoever knowingly becomes the custodian or depositary of any money or other thing of value so staked, bet, or wagered upon any such result, or whoever aids, or assists, or abets in any manner in any of such acts all of which are hereby forbidden, shall be guilty of a misdemeanor of the second degree.
This means that any kind of gambling that is not explicitly said to be legal in the state of Florida and its law, it is considered illegal and there will be repercussions.
Gambling Allowed in Florida
Pari-mutuel wagers are permitted in Florida, as long as they are done at licensed dog and horse racing tracks. Social gambling is also legal, but must follow strict rules in order for it to be legal. Anyone participating in these events must be 18 years or older (better than the usual 21 years of age rules out there), the "house" or operator of the event cannot profit from hosting the event, and there is a $10 cap per hand or round; as the game must be considered Penny Ante for it to be legal. This is where it limits poker games, as they must follow those rules.
I'd like to add an interesting tid-bit.  Florida has a casino (not fully loaded) located in Tampa called the Hard Rock.  Don't think it's that popular, think again.  It is said to gross $5 million per day.
Online Poker Law
Estimated Date of Legalized Online Poker in Florida: 2017-2018
Poker law in Florida is as ambiguous as in the other US states. There are no specific laws regarding online poker or gambling sites. However, as Florida is a stickler for the rules, and have such broad gambling definitions, these could in fact encompass online poker as well. As poker players play from their computer, the computer could become a gambling device, thus illegal. These matters are still in a gray area, and the risk of any online poker player being prosecuted is very low.
Land Based Casinos and Poker Rooms
Even though Florida has such strict laws on gambling, there are still a large number of casinos in the state. Some are independently owned, while others are owned and operated by the Native American tribes. As the Florida market is already saturated with casinos, and the laws are so strict, it is not a very good place to expand gambling into; unless it is online as it does not depend on land or foot traffic.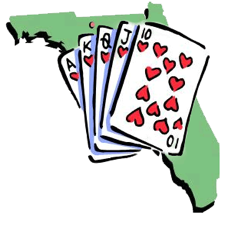 The dog tracks and poker rooms are quite busy, pretty much always. So busy, that in my hometown of Jacksonville they had 3 rooms within 30 minutes of each other, one that holds a WPT event yearly. As a once resident of Florida I consider the games far better than what you would find in Las Vegas. The poker rooms have more players than most major casinos around the world that I have seen.
To prop things up, many citizens from Georgia come to play poker in Florida. It's not a coincidence that the northeast corner of Florida has so many poker sites. Poker goes hand in hand with the life of many Floridians.
Tribal Stances and Possible Conflicts
There are many different Native American tribes that operate their own casinos like the Miccosukee and Seminole tribes. I do believe conflicts would arise between the Tribes and anyone trying to encroach on their business, but if Florida was to help pass an online gambling bill it could open doors for the Indian communities.
Online Lotteries
Florida does not allow lottery tickets to be bought online as that would constitute a transmission of gambling information.
Online Poker Sites
Florida may be strict on gambling issues, but they have yet to pass any laws that are specific to online gambling and poker. This means poker players residing in Florida could still play poker on any of the online poker rooms like BetOnline and Ignition Poker, with little to no risk.