Online and Offline Gambling Laws in Georgia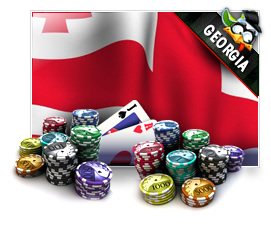 Georgia is one of the few states that take gambling laws to the extreme. Their definition of gambling is broad, making Georgia a very strict enforcer – or at least a very grey area as it is too broad (which could be good or bad, as in this case).
16-12-21.
(A) A person commits the offense of gambling when he:
(a1) Makes a bet upon the partial or final result of any game or contest or upon the performance of any participant in such game or contest;
(a2) Makes a bet upon the result of any political nomination, appointment, or election or upon the degree of success of any nominee, appointee, or candidate; or
(a3) Plays and bets for money or other thing of value at any game played with cards, dice, or balls.
(B) A person who commits the offense of gambling shall be guilty of a misdemeanor.
On top of making a simple gambling offense a misdemeanor, they have gone as far as to make an aggravated gambling offense into a felony. Anyone with a little bit of knowledge of law should know that there are consequences with being charged with a misdemeanor or felony that go beyond the fines and jail time. Georgia is an extremely strict state when it comes to regulating and enforcing gambling.
Gambling Allowed in Georgia
With such strict rules on gambling it would be nearly impossible for players to gamble or play poker. Georgia does have a state lottery that they regulate, but they do not have any regulated commercial or tribal gambling. There are some places that players can go and participate in poker tournament leagues, but they must stay within the law and not charge any entry fee or rake; they do still offer cash prizes as incentive though. Along this line, social gambling is not specifically exempt from the Georgia gambling law, so that can be risky.
There is limited charitable gambling allowed as well, such as bingos and raffles that must be operated by licensed and regulated entities.
Online Poker Law
Estimated Date of Legalized Online Poker in Georgia: 2019-2020
There are two factors that influence whether or not a person can or should play poker online in Georgia; gambling device and transmission laws. Georgia law states that a gambling device is "(D) Any video game machine or device, operated for any consideration, for the play of poker, blackjack, any other card game, or keno or any simulation or variation of any of the foregoing". This makes a computer a gambling device once a person starts playing poker on it, and that is illegal in Georgia, according to the above.
The transmission law states that no gambling information is to be transmitted or received through the internet. This would include any type of online sports bets, horse and dog races, and online casino-style games.
Land Based Casinos
Georgia has no actual brick and mortar casinos to speak of since they do not allow commercial or tribal gambling in the state. They do have, and allow under strict law, the club-based poker tournaments. Apart from that, the infrastructure is not there at all if anyone were to want to build a casino in Georgia, which between the strict laws and the lower population, it would not be a good fit anyways.
Tribal Stances and Possible Conflicts
Georgia has no tribal gambling, which means there would be no Native American tribes running casinos in the state.
Online Lotteries
Georgia does have a state-run lottery as well as an online lottery. The idea of selling lottery tickets online was approved on July 19, 2012 and has already been put into place, and tickets may now be purchased online. This is a huge step forward, especially for a state with such strict gambling laws, and it looks like a brighter future for the online gambling scene; except for sports betting which is still adamantly illegal.
Online Poker Sites
As there are no specific laws regarding online poker, it is safe to assume that Georgia would be hard pressed to prosecute anyone playing poker online. Because of this, players are still relatively safe and can play poker online; as long as the operator is not in the state. Some poker sites that are open to the residents in Georgia are Ignition Poker and BetOnline.