How Poker Stands in Kansas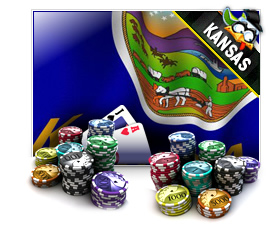 When a poker player thinks of Kansas, they do not really think that it would be a less conservative type of state when it comes to gambling, but in fact Kansas does take a less strict view on gambling than many of the other US states. They define gambling as:
21-4303. Gambling.
Gambling is:
(a) Making a bet; or
(b) Entering or remaining in a gambling place with intent to make a bet, to participate in a lottery, or to play a gambling device.
Kansas law defines a bet as,
21-4302. Gambling; definitions.
(a) "Bet" means a bargain in which the parties agree that, dependent upon chance, one stands to win or lose something of value specified in the agreement.
Kansas depends on the Dominant Factor Test to determine whether a game, or bet, is based more on chance or skill. Obviously if a game is deemed more of skill than of chance, and if the game adheres to Kansas law, that wager would be legal. Even if it is a game of chance, if it is not licensed or regulated, it is still illegal.
Gambling Allowed in Kansas
Kansas allows regulated Tribal gaming, which are Native American operated casinos with the same casino-style games that a person would find in Las Vegas; i.e. Class III games. There is also a state-run lottery, which is not the only gambling activity that the state runs. Kansas is a unique state indeed; the state Lottery actually owns and operates commercial casinos. Pari-mutuel gambling is permitted, but only by licensed non-profit organizations.
Kansas is much more lenient on social gamblers, as they would rather prosecute operators that run illegal gambling operations.
Online Poker Law
Sadly, the state of Kansas does deem online poker an illegal gambling act.
1996, Kansas Attorney General
"Placing, receiving or forwarding a bet and participating in or conducting a lottery on the Internet violates Kansas criminal gambling statutes. If a bet is placed or a lottery is engaged in from a computer located in Kansas any person or entity participating in such crime may be prosecuted in this state."
Land Based Casinos and Tribal Stances
As mentioned previously, the state-run Lottery actually owns and operates its own commercial casinos, and as such, it does not allow any other entity to run commercial casinos in the state. Kansas is the only state that currently runs their own casinos. There are also Native American operated casinos in the state, most of which are owned by the Sac & Fox, Kickapoo Nation, and the Iowa tribes.
As Kansas already runs commercial casinos, there is a high probability that they would also take part in regulating and running their own online gambling operations. This could go either way with the Indian community. They also have a bid on casinos, which makes them eligible to also run online casinos, but they would be competing against the state in this matter.
State Regulated Online Poker
Estimated Date of Legalized Online Poker in Kansas: 2018-2019
Even though Kansas does state that gambling online is illegal, that was stated in 1996, before any other online gambling reforms were taken into account. With the state already running and operating casinos, there are high chances that Kansas would become a state that runs online gambling and casinos, including poker.
Online Lotteries
Kansas does have their own lottery, which started in 1986. In 2007, Kansas partnered up with Iowa to create the first Multi-State Lottery Association sponsored scratch-off game; moreover, they have not adopted online lottery ticket sales as of yet.
Online Poker Sites
In 1996, Kansas made it clear that online gambling was in fact illegal in their state but it has been a long time since they stated this. Since then, gambling has expanded and become more prominent in the state and they do a good job of being lenient on the gamblers, but harsh on the operators. For this reason, there should be no issues if a person wants to play poker online at any of the recommended online rooms, such as Ignition Poker or BetOnline Poker, both USA friendly rooms.