The Laws of Poker and Casinos in Maine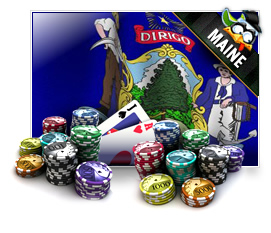 Maine has a strict enforcement of unregulated gambling, as they have a broad definition of what gambling is.
§952. Definitions
As used in this chapter, the following definitions apply:
4. "Gambling." A person engages in gambling if he stakes or risks something of value upon the outcome of a contest of chance or a future contingent event not under his control or influence, upon an agreement or understanding that he or someone else will receive something of value in the event of a certain outcome. Gambling does not include bona fide business transactions valid under the law of contracts, including but not limited to contracts for the purchase or sale at a future date of securities or commodities, and agreements to compensate for loss caused by the happening of chance, including but not limited to contracts of indemnity or guaranty and life, health or accident insurance.
Maine makes it a point to make the definition broad. In Maine, they do use the Dominant Factor Test but they use it in a different fashion. There might be a clear distinction between a game of chance and a game of skill, but if there is even the slightest amount of chance in the game it is considered a contest of chance. Anyone caught gambling illegally could face misdemeanor or felony charges depending on the severity of the act.
Gambling Allowed in Maine
Residents living in Maine have access to many different forms of regulated gambling. These included commercial casinos and harness horse racing; dog racing is not allowed. They also offer a state-run lottery as a legal form of gambling. Social gambling is also permitted, and is actually exempt by:
§952. Definitions
8. "Social gambling " is gambling, or a contest of chance, in which the only participants are players and from which no person or organization receives or becomes entitled to receive something of value or any profit whatsoever, directly or indirectly, other than as a player, from any source, fee, remuneration connected with said gambling, or such activity as arrangements or facilitation of the game, or permitting the use of premises, or selling or supplying for profit refreshments, food, drink service or entertainment to participants, players or spectators.
As long as those individual gamblers follow these rules, they are exempt and are allowed to gamble in a social environment.
Online Poker Law
Maine has a lack of liability for those individual gamblers, and that can extend to the online poker and gambling scenario. There are no laws that specifically address online gambling or poker, so it is safe to assume that individual players that participate in online poker rooms are safe.
Land Based Casinos and Tribal Stances
There are two commercial casinos being run and operated in the state of Maine. The one issue that has been dragging on for decades is the fact that the Native American tribes are not allowed to expand or create new casinos as of now, while independent, out-of-state developers are able to. This has been an ongoing battle between Maine and the Indian community of course. This will certainly be another issue that needs to be dealt with when and if online gambling is ever regulated in Maine in order to avoid further issues in the communities and state.
State Regulated Online Poker
Estimated Date of Legalized Online Poker in Maine: 2019-2020
Maine is a very small state, with a small population, which does not make it a prime target for online poker regulation. Another factor that greatly affects this decision is the fact that the majority of the Maine population are against gambling expansion.
Online Lotteries
Maine does have their own state-run lottery, which many have thought could become the main online gambling regulator. Maine has a long history in the lottery, starting out since 1974, and joining the MUSL in 1990. Maine has not joined the states that have already started selling tickets online.
Online Poker Sites
There are no laws in Maine that directly affect online poker or gambling, and going along with social gambling, playing in online poker rooms has a high chance of not being illegal. Poker players looking to play online poker can try out BetOnline and Ignition Poker, the recommended US friendly rooms for Maine residents.