Massachusetts Online Poker – Legal Stance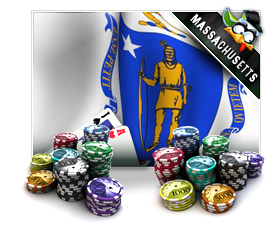 Massachusetts is an old-style US state that still has very harsh views and enforcement on illegal gambling. However, there is hope for regulated gambling in the state as they are working to expand it all over the American state. Their views on illegal gambling are very strict, which is why their definition of it is broad.
Chapter 4: Section 7. Definitions

Tenth, "Gaming", "illegal gaming" or "unlawful gaming" shall include every act punishable under any law relative to lotteries, policy lotteries or policy, the buying and selling of pools or registering of bets.
This is a very broad definition, and along with it, the punishment for this it is pretty harsh and includes:
Chapter 271: Section 1. Gaming or betting; forfeiture; limitations.

Section 1. Whoever, on a prosecution commenced within eighteen months after the commission of the crime, is convicted of winning at one time or sitting, by gaming or betting on the sides or hands of those gaming, money or goods to the value of five dollars or more, and of receiving the same or security therefor, shall forfeit double the value of such money or goods.
Chapter 271: Section 2 Gaming or betting in public conveyance or place or while trespassing in private place; arrest without warrant

Section 2 . Whoever, in a public conveyance or public place, or in a private place upon which he is trespassing, plays at cards, dice or any other game for money or other property, or bets on the sides or hands of those playing, shall forfeit not more than fifty dollars or be imprisoned for not more than three months; and whoever sets up or permits such a game shall be punished by a fine of not less than fifty nor more than one hundred dollars or by imprisonment for not less than three nor more than twelve months.
This would mean that anyone caught betting or illegally gambling, will have pretty harsh punishment of imprisonment (it is not like you killed anyone, but ok).
Gambling Allowed in Massachusetts
Despite the severe law on illegal gambling, there is a very prosperous regulated gambling business in Massachusetts. They allow pari-mutuel gambling on horse races, a state lottery, and a limited amount of seniors conducting beano games. They also allow charitable gambling, where they can have bingo, raffles, and other games of chance. The more important form of regulated gambling is the fact that there will be commercial casinos in the state in 2015. There were some problems when Massachusetts was expanding their gambling in the state, but it seems to have died down.
On the topic of being allowed to play poker as a part of social gambling is a gray area. The law technically does not deem poker to be illegal if, and only if no one acts as the house and/or takes a charge for organizing and running the game.
Online Poker Law
It would seem Massachusetts does not like online gambling, especially online poker. They have tried a few times to include an amendment to the casino legislation to include online poker as illegal; making it a criminal act to play poker online. The saving point of this is that none of these bills have passed, which lets poker players know that there is a chance that Massachusetts could become an online poker regulator.
Land Based Casinos and Tribal Stances
There will be commercial casinos in Massachusetts in 2015. It is all thanks to their efforts to expand the regulated gambling in the state, and bring in more investors and business. There are also several tribal casinos, which are mainly run by the Mashpee Wampanoag tribe. There is plenty of room for expansion, as the population of Massachusetts, could make the state into a casino-rich state – including of course all those university students, which nowadays are the main target market for online poker anyway.
This is not without conflict, as the state battles against lobbyists and the Indian tribes in regards with the expansion of regulated gambling throughout the state, and the legalization of commercial casinos. This may become a problem for online poker as well, as they do not seem keen on sharing the profit.
State Regulated Online Poker in Massachusetts
Estimated Date of Legalized Online Poker in Massachusetts: 2017-2018
Massachusetts has seen its fair share of attempts to make online poker illegal, but they have failed. This can be one of two things; the state thinks that online poker in the future will be a viable way to get funds, or there is not enough evidence to make it illegal. Either way, the future of regulated online poker sites looks to be pretty promising; it all depends on which side gives the best arguments.
Online Lotteries
Massachusetts does have a state-run lottery, which began in 1971. As of yet, they still do not sell lottery tickets online.
Online Poker Sites
Massachusetts has very strict laws regarding illegal gambling, and with the strict enforcement of even social games, it may not be a good idea for poker players located in Massachusetts to be playing online. There is one aspect in favor of the players, there is no explicit law stating that it is illegal, so they could technically play poker online; as long as the poker site is not hosted/run from within the state. They could try out BetOnline or Ignition Poker as they are hosted from outside the U.S., and allow players from Massachusetts to play.