Playing Online Poker in Minnesota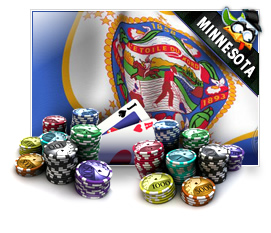 Minnesota's views on unregulated gambling are quite strict, including their definition of gambling, which is very broad.
609.755 Acts of or relating to gambling.
Whoever does any of the following is guilty of a misdemeanor:
(1) makes a bet;
(2) sells or transfers a chance to participate in a lottery;
(3) disseminates information about a lottery, except a lottery conducted by an adjoining state, with intent to encourage participation therein;
(4) permits a structure or location owned or occupied by the actor or under the actor's control to be used as a gambling place; or
(5) except where authorized by statute, possesses a gambling device.
In regards to gambling, a "bet" can represent many different acts; this is why the definition is broad as it encompasses the entirety of gambling in a simple word. However, Minnesota law also defines what a bet is as:
609.75 Gambling; definitions.
Subd. 2. Bet. A bet is a bargain whereby the parties mutually agree to a gain or loss by one to the other of specified money, property or benefit dependent upon chance although the chance is accompanied by some element of skill.
By looking at their broad definitions of what gambling and betting are, one can safely assume that anything that a casino has is considered gambling; assume.
Gambling Allowed in Minnesota
Minnesota allows pari-mutuel gambling, seeing as they own a racetrack; which incidentally also has casino games including poker and other table games. They also have plenty of tribal casinos around the state, where Minnesota is trying to work with them to expand their racetracks. Charitable gambling is also allowed with the reason being is it is a huge business in the American state, bringing in over $1 billion in gross revenue annually.
Social gambling is allowed as long as no one profits by taking a fee or rake from the game. The reason for this is thanks to the definitions of betting and game, where they clearly state that a private, and social bets are legal.
Online Poker Law
Minnesota has in the past, tried to ban ISP's from various online gambling sites, but in the end they could not enforce it and dropped it all together. The broad definition of a bet would certainly hold true to the extent of online gambling, but as the State of Minnesota has no intentions of violating the privacy of their residents, they would have no way of enforcing it, let alone knowing which individuals were gambling online. This leaves a lot to wish for, seeing as Minnesota does not particularly like online gambling.
Land Based Casinos and Tribal Stances
Minnesota takes its regulated gambling seriously mainly in the sense of casinos, and thus the reason why they have several racetracks, as they do not allow commercial casinos. The reason for this is because they want a peaceful and unified agreement between the tribal casinos and the US state. This good relationship they have has been a great help for Minnesota, as they have wanted to expand their racetrack, with the tribal casinos' help.
State Regulated Online Poker
Estimated Date of Legalized Online Poker in Minnesota: 2019-2020
The laws regarding illegal gambling are quite clear, but old, which is why the new gambling laws have been used in most cases. Minnesota has not made online poker illegal, and has been working towards expanding the gambling business as it brings in a large amount of state revenue. They do crack down hard on Operators of online gambling sites though, but that is just because they are not regulated. If online gambling becomes legal, through a regulating body, Minnesota would likely take advantage of it and regulate online poker sites.
Online Lotteries
The Minnesota state lottery started in 1988 when it was approved by 57% of the residents. Since then they have made various different games; Scratch, Online, and Print-N-Play games. The online games are the Powerball, Gopher 5, Daily 3, Northstar Cash, and the Hott Lotto.
Online Poker Sites
It would seem Minnesota has a great dislike of unregulated gambling, but since they have no way of knowing if a player has been participating on an online poker site, and there are no laws explicitly stating that playing online poker is illegal, it is then safe to assume that players can visit and play at BetOnline and Ignition Poker; the recommended US friendly online poker rooms.