New Hampshire Internet Poker and Gambling Laws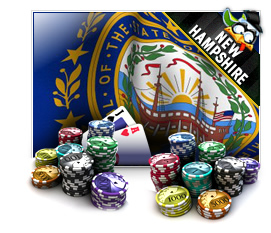 Like the majority of US states, New Hampshire has pretty strict laws regarding unregulated gambling, and their definitions are somewhat specific, involving the following:
647:2 Gambling.
II. For purposes of this section:
d) "Gambling " means to risk something of value upon a future contingent event not under one's control or influence, upon an agreement or understanding that something of value will be received in the event of a certain outcome.
This definition limits some types of gambling, such as sports betting as the bettor will have no control over the game. However, it does leave a lot of other factors open, such as games of skill and chance. These games may have some element of chance in them, but as it is under the person's control, it is then not deemed as an act of gambling. Players in a poker game would be in control of at least part of the game, even if there is a high amount of chance, there is still skills, odds calculations, reading your opponents, etc.
Gambling Allowed in New Hampshire
There is regulated gambling in New Hampshire, although it is somewhat limited. They allow pari-mutuel betting at licensed racetracks, as well as having other forms of limited gambling at these racetracks. They also have a state-run lottery and charitable gambling.
The law on gambling is narrow, and people can argue that poker is not defined in the law, making it legal to play in a private establishment. This may be what can be argued, but it is not an established fact, and should not be treated as part of the law.
Online Poker Law
There are no statutes in the New Hampshire law that explicitly talks about online gambling. Their definition of a gambling machine also leaves a lot of questions.
647:2 Gambling.
II. For purposes of this section:
(e) "Gambling machine' ' means any device or equipment which is capable of being used to discharge money or anything that may be exchanged for money, or to display any symbol entitling a person to receive money.
A computer, or even the internet, is not capable of discharging money or used to be exchanged for money, thus it does not fall under this definition. Along with the narrow law that does not define poker as illegal, it seems that it is at least not illegal from this standpoint.
Land Based Casinos and Tribal Stances
New Hampshire does not have any commercial or tribal gambling, but this could change in 2015. A bill is in the works to allow for two land-based casinos. They do have some licensed and regulated racetracks where people can bet on horse and dog racing, as well as a limited form of casino-style games.
State Regulated Online Poker
Estimated Date of Legalized Online Poker in New Hampshire: 2019-2020
New Hampshire may not seem like the kind of state that would be interested in regulating online poker sites, but that is where those assumptions could be wrong (hopefully). There is a high probability that New Hampshire could be in the first handful of states that would want to regulate online poker. However, the State does not have a very strong and invested legislative interest regarding this issue thus far.
Online Lotteries
New Hampshire is the first state to ever have a lottery in the U.S. They started in 1963 with the New Hampshire Sweepstakes, which was later changed to just New Hampshire Lottery. They ran into a few speed bumps along the way, but they now offer the sale of lottery tickets online through their official website; these are only available to residents in New Hampshire.
Online Poker Sites
New Hampshire is given good odds of becoming an online poker site regulator. They already have the infrastructure ready, along with the laws that do not mention anything at all regarding online gambling, thus making this US State an excellent place for internet poker players. Residents living in New Hampshire that want to play poker online can do so at BetOnline and Ignition Poker; where they are welcome to join and play for real money.