New Jersey Regulated Poker-Gambling in the United States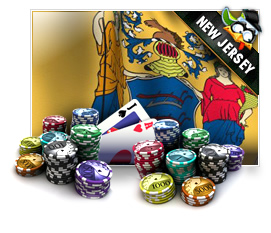 New Jersey became the third state in America to legalize poker over the internet, Delaware and Nevada the other two, in February 2013 and going live in late November of 2013.
New Jersey is considered to be the East coast's Las Vegas (a dirtier and smaller version, thanks to Atlantic City). They have set up a very profitable and successful regulated commercial casino business, and as such, they would like to preserve this fact intact. New Jersey is friendly with regulated gambling, but has a very strict view on illegal gambling.
2C:37-1. Definitions
b. "Gambling" means staking or risking something of value upon the outcome of a contest of chance or a future contingent event not under the actor's control or influence, upon an agreement or understanding that he will receive something of value in the event of a certain outcome.
Even though this encompasses a great amount of gambling, it does not specifically state whether or not games that are under the influence of the individual gambler are legal or not. The penalties for individual gamblers are not as harsh, but for Operators without licenses, the punishment is very severe. Mandatory jail time, along with enormous fines in the hundred thousands or millions of dollars is what awaits those operators that are prosecuted.
Gambling Allowed in New Jersey
New Jersey has several different outlets for regulated gambling. They have a good amount of commercial casinos, most of them located in Atlantic City, as well as a few racetracks. The state has its own lottery and allows charitable gambling. They do not have any tribal gambling in the state.
To understand whether or not social gambling is allowed, one must take what they define as gambling, and pair it with what they define as player.
2C:37-1. Definitions
c. "Player" means a person who engages in any form of gambling solely as a contestant or bettor, without receiving or becoming entitled to receive any profit therefrom other than personal gambling winnings, and without otherwise rendering any material assistance to the establishment, conduct or operation of the particular gambling activity. A person who gambles at a social game of chance on equal terms with the other participants therein does not thereby render material assistance to the establishment, conduct or operation of such game if he performs, without fee or remuneration, acts directed toward the arrangement or facilitation of the game, such as inviting persons to play, permitting the use of premises therefor or supplying cards or other equipment used therein.
This basically means that a person that engages in social gambling must do it on equal terms as the other players; they cannot take a rake or fee.
Online Poker Law and State Regulated Sites
As mentioned above, New Jersey passed regulated intrastate poker online in February 2013. People within New Jersey were able to play live poker for real money over the internet on November 26, 2013. Fiver poker websites were issued licenses through their land-based Atlantic City casinos at the time of the initial launch. With over 9 million people in the state of New Jersey, they have seen the most success with their online poker operations thus far.
There is no bad actor clause/five year ban on previous poker companies that violated federal online gambling laws, which opens the door for PokerStars to enter the market and is expected to come a reality in early 2015. The bill imposes a 15% tax on internet gambling revenue, as compared to an 8% tax on land-based casinos. Interstate compacts may be signed with other states that pass internet poker to allow for a larger poker pool player base.
Land Based Casinos and Tribal Stances
New Jersey has Atlantic City, which boasts a great amount of commercial casinos and racetracks, which are all regulated and licensed to gamble. Players in New Jersey can also play casino games online through its regulated sites. The law passed allows online casinos to operate for a ten year trial period as long as they abide by their regulations. There is no tribal gambling in New Jersey.
Online Lotteries
New Jersey does have a state-run lottery, where people 18 years old or older are allowed to participate. They have yet to adopt any kind of online ticket sales system, which means the only way to get lottery tickets is through retailers.