Rhode Island Poker Landscape in Regards to the Internet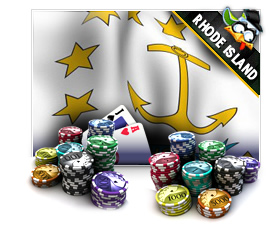 Rhode Island is by far the smallest state in the U.S. and also has, by far, the most ambiguous and unclear definition of what gambling is. This causes problems when residents want to know what is expressly illegal and what is not. They define gambling as:
§ 11-51-1 Definitions.
(a) "Gambling" includes, but is not limited to, pool-selling, bookmaking, maintaining slot-machines, roulette wheels or dice tables, and conducting lotteries, Policy, Bolita, or numbers games or selling chances in them.
This definition may specifically state what would constitute gambling, but does not really address it further. However, the Supreme Court of Rhode Island stated that certain casino games, including blackjack and poker, could be categorized under the term Lottery. This means that the same rules that apply to lotteries, apply to casino-style games. To make matters worse, Rhode Island has pretty strict punishment for those caught gambling illegally; misdemeanor and felony charges with fines and jail time may be included – obviously.
Gambling Allowed in Rhode Island
Rhode Island does not have very many venues for its residents to legally gamble (land-based wise). They do not have a commercial casino business nor any form of tribal gambling. They do have racetracks, which are allowed to have and use certain casino-style games; making them into "racinos". These racetracks have basically turned into the commercial casino business, seeing as that they allow the casino games to be played in their establishments. As there are racetracks, they obviously allow pari-mutuel gambling on horse and dog races.
They do not allow social gambling, as they have no exceptions in their gambling laws regarding the matter. Rhode Island does have a state-run lottery, as well as limited forms of charitable gambling.
Rhode Island Online Poker Law
Remembering the fact that playing poker now falls under the same rules as the lottery, there is practically no venue for playing poker in a land-based establishment. There is nothing explicit in the Rhode Island gambling laws regarding the matter of online poker. However, based on their general definition of gambling, it would suggest that if it is not specifically deemed legal, or is regulated, it is the same thing as if it were illegal. The one saving point is the fact that Rhode Island prefers to punish those that operate illegal gambling, rather than those that simply participate in it.
Land Based Casinos and Tribal Stances
Rhode Island has very poor regulated gambling options, as they have neither commercial casinos nor a tribal gambling presence. The one salvation is the fact that they have racetracks that offer several types of casino-style games. Being such a small state, with not much of a population, it would not seem advantageous for there to be any gambling expansion to happen in the State.
State Regulated Online Poker
Estimated Date of Legalized Online Poker in Rhode Island: 2018-2019
For Rhode Island to start regulating online poker sites, there are various obstacles they need to overcome before that can happen. The residents of this State are not very fond of gambling and gambling expansion as they have been voting down any proposal that has to do with gambling. The other hurdle is the fact that the State does not seem interested in pursuing any legislation regarding online gambling or online poker related. There is a sliver of hope for the State, but that is all there is, a sliver.
Online Lotteries
Rhode Island has a state lottery that started up in 1976 when their first tickets sold were for the Numbers Game. They are actually one of the seven founding states that started MUSL in 1987. Even with their rich history behind the lottery, they have not implemented an online ticket sales system.
Rhode Island Online Poker Sites
The Rhode Island gambling law is very ambiguous and unclear, and it seems the State is more interested in persecuting the illegal gambling operators more than the individual gambler. They also do not have a very clear stance on social gambling, where online poker could be seen as a form of social gambling. There are a few online poker sites that welcome players from Rhode Island, and those include the likes of BetOnline and Ignition, recommended by us as well thanks to their games, traffic, and service, within other positive points.