South Dakota Poker and Gambling Laws Online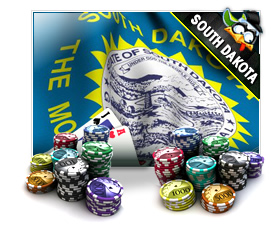 South Dakota is a state that does not take kindly to illegal forms of gambling, and they take the necessary measures to enforce the law regarding gambling.
CHAPTER 22-25 GAMBLING AND LOTTERIES
22-25-1 Gambling defined–Keeping gambling establishment–Letting building for gambling–Misdemeanor. Any person who engages in gambling in any form with cards, dice, or other implements or devices of any kind wherein anything valuable is wagered upon the outcome, or who keeps any establishment, place, equipment, or apparatus for such gambling or any agents or employees for such purpose, or any person who knowingly lets any establishment, structure, place, equipment, or apparatus for such gambling is guilty of a Class 2 misdemeanor.
This definition of gambling is very broad, but they do include key words such as cards and dice. This means that any form of unregulated poker is deemed illegal, and anyone caught would be facing misdemeanor charges.
Gambling Allowed in South Dakota
Just because South Dakota has strict gambling laws does not mean that they do not have any form of regulated gambling in the state. They do have a wide assortment of commercial casinos, as well as tribal gambling options; there are certain casinos that have a betting limit established. They do allow pari-mutuel gambling, but only on live horse races. They have a state lottery and allow charitable gambling for qualifying entities; only allowing them to play bingo and certain types of lotteries.
The one downside is that South Dakota does not have any exceptions in their gambling laws regarding social gambling. There are no situations where a person can gamble socially; this is due to the fact that they make it illegal to gamble regardless of location, stakes, and even the participant's relationship with each other.
Online Poker Law
South Dakota does address the issue of online gambling with:
CHAPTER 22-25A INTERNET GAMBLING
22-25A-1 Bet or wager defined. For the purposes of this chapter, the term, bet or wager, means to directly or indirectly take, receive, or accept money or any valuable thing with the understanding or agreement that the money or valuable thing will be paid or delivered to a person if the payment or delivery is contingent upon the result of a race, contest, or game or upon the happening of an event not known to be certain.
There are other definitions under Section 22-25A that are in regards to online gambling. What makes this matter worse is that under this law, every bet a person makes counts as an individual offense and can be charged separately. Charges for gambling illegally online constitute felonies. The one upside is that they do not state any rules against the individual player, but instead address the operators of these businesses.
Land Based Casinos and Tribal Stances
There are many different options available for bettors, whether they go to a commercial casino or a tribal casino. The only places people can find a legal poker game would be at the Deadwood casino, or any of the tribal casinos. Most of the tribal casinos are operated by various factions of the Sioux Tribe.
As of November 4, 2014, the voters of South Dakota approved roulette, keno and craps to be allowed at casinos within the state. The Amendment was approved by a 57-43 percent margin.
State Regulated Online Poker
Estimated Date of Legalized Online Poker in South Dakota: 2019-2020
With gambling already being properly established, these entities would be hard pressed to allow the State to regulate online poker sites. This would obviously take business away from them. Another factor that diminishes the chances of South Dakota regulating these sites is the fact that the state has had no intentions of pursuing the matter.
Online Lotteries
South Dakota has a lottery that started in 1989, by establishing a Video lottery, they later on joined MUSL in 2010. With their strict gambling laws and lottery regulations, it is no surprise that they have not instituted any form of online lottery ticket purchasing.
Online Poker Sites
South Dakota has strict laws against gambling on the internet. However, taking a closer look at these laws, it states that it is illegal to run these types of operations. This could give an individual poker player some leeway for when they play online. Their broad definition of gambling, though, could be used to go against the players; once again though, the state seems more focused on the operators. For those players wanting to try an online poker site that accepts residents of South Dakota can try Ignition Poker or BetOnline Poker.