Vermont Internet Poker and Full Gambling Laws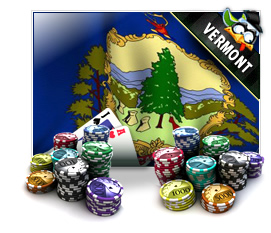 Vermont is a pretty weird state when it comes to gambling. They are strict when it comes to unregulated forms of gambling, but their definition of gambling is pretty obscure; leaving a lot in question as it does not properly define gambling, but rather the act of winning or losing at gambling.
Chapter 51: Gambling And Lotteries
§ 2141. Winning or losing by gambling
A person who wins or loses money or other valuable thing by play or hazard at any game, or by betting on such play or hazard, or sharing in a stake wagered by others on such play or hazard, shall be fined not more than $200.00 nor less than $10.00.
Vermont does, however, go on to state that gambling could be defined as a lottery, raffle, or a game of chance. Poker would be included in this definition as it is considered to be a game of chance. The one upside to the Vermont gambling law enforcement is that they seem more interested in punishing the operators rather than the individual players. It would also seem that the punishment for being an operator is much harsher than that of a participant.
Gambling Allowed in Vermont
Vermont has two outlets of regulated gambling, the state lottery and limited forms of charitable gambling. Charitable gambling events are allowed a certain number of times per year, but they are allowed to have games such as bingo, raffles, and even card games including poker. Vermont does not have any commercial or tribal casinos, and the racetracks they used to have are no longer allowed.
Social gambling is a tricky concept to grasp. Vermont states that a gambling house is illegal, which encompasses private homes and residences. To go along with this idea, the players could also face additional charges with the "winning or losing by gambling" definition.
Vermont Online Poker Law
Vermont law addresses one simple type of internet gambling, the sale of unregulated lottery tickets through the internet. In this case, the law excludes ISP's from liability when and if the operator of this activity is caught. Other than the sale of lottery tickets online, Vermont does not have any other explicit laws regarding online gambling or even online poker.
Land Based Casinos and Tribal Stances
Vermont used to have horse and dog races, and allowed them to be wagered on, but this changed as Vermont later decided they wouldn't regulate this anymore. They do not have any commercial or tribal casinos, so that also limits the established gambling infrastructure. The state has a pretty rigorous and strict view on gambling, which is why they only have the lottery and charitable gambling.
State Regulated Online Poker
Estimated Date of Legalized Online Poker in Vermont: 2019-2020
As Vermont does not have any form of regulated gambling, in respects to casinos, this would be one obstacle that they would need to overcome. Without the proper backing or support they would have no way of creating and regulating online poker sites. However, before they can even think about acquiring partners, the residents would have to agree to this idea. Vermont's decision to regulate online poker sites first and foremost depends on the report that the Lottery Commission delivers; how the State will act depends on whether the report is good or bad.
Online Lotteries
The Vermont Lottery started back in 1977 and is operated by the Vermont Lottery Commission. The lottery is used to fund State education and school spending. Vermont has yet to start selling tickets online, but that may change in the near future.
Vermont Online Poker Sites
Vermont is a State that likes to pursue the operators more often than the individual players, and thanks to the fact that their gambling law does not explicitly have anything in regards to online poker, then poker players are safe in a matter of speaking. Poker players can take advantage of this large gray area and try out some of the online poker sites that allow Vermont players to participate. A good example of a trusted poker site is BetOnline, or players can also try out Ignition Poker. That said, if you are also looking for further land based casinos, you could just cross the border to neighboring states and/or Canada over at Montreal and the Kahnawake reserve.