Wyoming Poker and If It Will Become Legal by State – Laws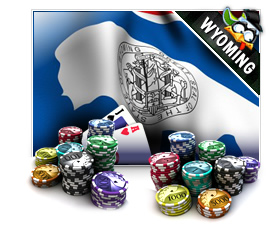 Wyoming has a much stricter definition of gambling that most other states, as it over-shadows more aspects that could be considered gambling.
6-7-101.Definitions.
(iii) "Gambling" means risking any property for gain contingent in whole or in part upon lot, chance, the operation of a gambling device or the happening or outcome of an event, including a sporting event, over which the person taking a risk has no control
Their definition would encompass gambling activities such as sports betting, as well as poker. They consider most games that depend in whole or in part on chance, as a part of gambling. This is why they do not need to make a distinction between games of skill and games of chance, since if a game involves even the slightest bit of chance, it will always be considered illegal. Players would face misdemeanor charges, and operators would face felony charges.
Gambling Allowed in Wyoming
Wyoming has a few gambling options available. They reinstated pari-mutuel gambling on horse racing in 2011 and it is highly regulated. They do have some tribal casinos in the State, as well as allowing bingo and raffles through charitable gambling. They do not have any commercial casinos, but do offer a state lottery.
Wisconsin does have an exception when it comes to social gambling,
6-7-101.Definitions.
(E) Any game, wager or transaction which is incidental to a bona fide social relationship, is participated in by natural persons only, and in which no person is participating, directly or indirectly, in professional gambling
This simply means that anyone participating in social gambling cannot act as the operator, or else it would then violate this statute exception.
Wyoming Online Poker Law
Wyoming does not have any law explicitly stating that online gambling is illegal, but the State could find ways to include online gambling into their laws already in place. There really has not been any efforts made by Wisconsin to search and prosecute anyone playing poker online, as of yet.
Land Based Casinos and Tribal Stances
Wyoming does have a good racetrack and tribal casino infrastructure, but they do lack any kind of commercial casino. Tribal casinos are allowed to have forms of poker or table games like blackjack. Wyoming seems to give a lot of freedom to their residents when it comes to playing poker at their homes or at regulated casinos.
State Regulated Online Poker
Estimated Date of Legalized Online Poker in Wyoming: 2018-2019
Wyoming does not appear to be on the online gambling bandwagon, at least not yet. However, they recently added a state lottery and continue to look at gambling expansion, which is only a good sign for the online realm. The chances that Wyoming becomes a State that regulates online poker in the next few years is extremely small unless they look to join other states on an interstate poker level; 4-6 years looks more realistic.
Online Lotteries
Bill HB 77 was signed into an Act on March 13, 2013, which created the Wyoming Lottery. Operations started on July 1, 2013, and the actual selling of lottery tickets went live on August 24, 2014.
Online Poker Sites
Wyoming has not been very invested in trying to find and stop anyone participating in online poker; this does not, however, extend to those that host or operate these sites. There is a little leeway between what is in the law and what is speculated, so those who play at online poker sites shouldn't see any real issues. Those residents living in Wyoming that want to play poker online can use these great websites; BetOnline and Ignition.