Poker Depositing Using Echeck
Easiest Deposit Method
As of right now BetOnline Poker is only accepting echecks. It is also called Quick Deposit and is the main site allowing all new customers to deposit using echeck.  It's free, the quickest (immediate) and easiest way to deposit at the moment for US / UK and Euoropean players and is a great alternative to credit cards which are hit or miss. Instant poker echeques are also becoming more popular overseas.
Using an eCheck is very simple. When you deposit using this echeque deposit option you will need the check in front of you so you can insert the routing number and account number into the computer.
This is commonly called an EFT transfer and they work exactly the same as paper checks but without having to physically send the check in.  It is basically like using your credit card in a way.
What US accepted poker sites take Echecks?

BetOnlinePoker.com
How fast are eChecks?

Most poker sites will release your funds immediately upon depositing using an eCheck. This is common practice even though the poker site is at risk if the check does not clear.  Cashouts work differently.  It generally takes 10 days for echecks to clear even though the funds go straight to your account immediately.  The site will only let you withdraw before the check clears if you have enough funds to clear both your deposit and withdraw amount

Are eChecks safe?

They are one of the most secure forms of payment online. Usually an id is required to use eChecks. Many sites will also set deposit limits for each check at first. For that information please visit the site you are trying to deposit at and visit the "more information" tab.
Can you cashout with echecks?
Yes, but not right away.  Because poker sites need to clear you check first they won't let you withdraw your deposit until the check clears but you may still play with the money before it clears.
Deposit Limits and Maxes with Echeques
At first the limits are low to verify you're not trying to scam the poker room.  Usually $600 max per 1 month period is common.  Once your fist check clears they'll usually raise it to $2000 per 30 days.  Special exceptions are made for VIP players.
Example of What You'll See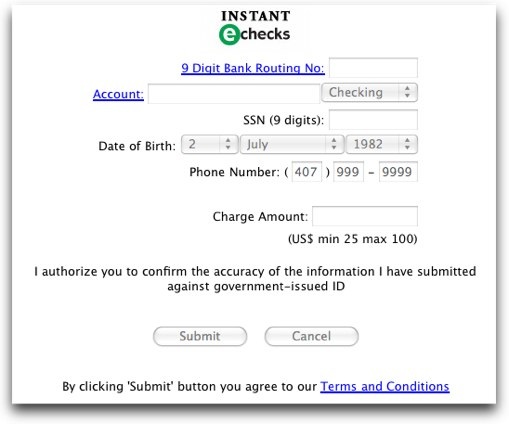 Why do they need my Social Security number?
This is to confirm your bank account and make sure you are not trying to scam the poker room.  Because most poker sites let the initial deposit go through instantly you'll need to enter your social security number when using poker echecks.
Other Deposit Options
Online poker American Express