Hawaii Poker Sites – Poker Sites Accepting Hawaii Players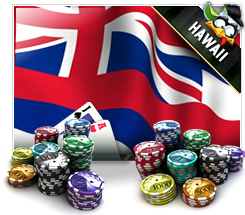 A question that commonly arises is, "What poker sites accept Hawaii players?". Other than the one mentioned below, the answer is not many at all. Hawaii has long been against gambling of any form, that's why you won't find any casinos or poker rooms on any of the beautiful Hawaiian Islands.
BetOnline.ag – The last poker site that accepts Hawaii. This is actually one of the largest poker rooms for the United States anyway, they also have a casino and sportsbook that you can bet on from Hawaii.
With the recent clarification of laws in the legislation that outlined the Federal Wire Act of 1961, it actually made online poker in the United States. What many don't understand is that while it may be legal on a Federal Level, your State must say it is legal before you can play at one of their sites.
Estimated Date of Legalized Online Poker in Hawaii: 2020-2022
And as we said earlier, the State of Hawaii is, for some reason, highly against gambling whether it be online or on land.
The interesting facet to this is that Hawaii could gain a huge amount of revenues from "Foreign Money" in the process. Many who visit Hawaii are those from Japan and other Asian countries. These foreigners are not the poor ones, but instead the extremely rich whom frequent the island because of its extreme beauty and it's 6 less hours to the Mainland USA.
A vast pool of untapped "American" money lies in Hawaii and continues to stay out of the country as websites from the United Kingdom, Costa Rica or other licensees of gaming contracts exist.
We have seen a push for online poker in Hawaii but the State politicians simply are not having any of it. While it would definitely be a shame to turn the magnificent lands of the Islands into trashy casino joints, gambling online wouldn't have any but positive affects on the State.
For some reason many offshore companies have even decided to exclude Hawaii from their list of US accepted poker sites. Generally, the reason is because it is harder to do financial transactions between Hawaii and overseas. This means big money on the table, and when there's big money poker sites like BetOnline.ag they will continue to thrive.
Related State Issues:
Maryland – Washington – Kentucky – New York – Utah – Missouri – Louisiana – Illinois