Webtv Casino Online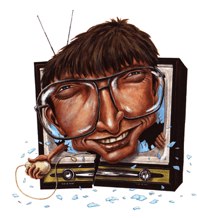 Casinos for MSNtv / Webtv users
MSN or Webtv casino players have limited options when it comes to playing online casinos.  In an extensive search we came up with only a couple options for Webtv casino players like that of Slotland Casino.
Due to the fact that Webtv is not an actual computer the casino software programs can not actually be downloaded.  The Sony webtv box works in a similar fashion.
Useful Webtv Information
Typically Webtv users should be able to play at casinos that offer a Flash software. The reason you can't play at a lot of Flash casinos is that Macromedia Flash requires too much memory for Webtv. The casino has to dump a bunch of features from the already stripped flash software to work on WebTV. We have listed the Webtv compatible casinos below that have done that. You must have the Macromedia Flash Plugin to play the games.
The main goal for Webtv casino players is locating a software that runs quickly but still has all the necessary graphics to make the game appealing. Since Webtv can not run software programs, as of right now online poker can not be played using Webtv.
* Note: Party Casino was previously compatible with WebTV or MSN but they no longer offer their no download software. Therefore, the casino is not compatible with WebTV any longer. A bunch of casino review centers have outdated reviews but ours is updated each month.

* Update: Winnercasino has been removed from the MSN/WebTV list due to shady conduct reported by various watch dog sites. They still function with WebTV but play at your own risk.
Future Casinos for Webtv or MSNtv
We've been doing an extensive search to find more casinos that are compatible with Webtv, AOLtv and MSNtv. Because casinos require so much memory it is very difficult for the online casino to make their Flash software compatible. It is an endless battle with online casinos.
Most of the online casinos want to get rid of Flash all together because they don't offer the array of games as the download software does. It's like pulling teeth trying to have them spend millions to change their software to become compatible. We assure you as soon as any casino becomes compatible we will be the first to know. Please check back regularly for updates or bookmark us.
Common Problems with Webtv Casinos
Flash media games such as online casinos can take some time to load properly. You must be patient when playing online games and casinos using Webtv. In general Webtv was made for searching only. This is why it can be difficult to do some things such as play online casinos. It can take up to 5 minutes for the casino games to fully load on Webtv when using Flash.
If you are running an older version of Webtv you will have Flash 3.0. If your system is the Classic version of Webtv then you have the Flash 3.0. The newer models of Webtv will use Flash 5.0 which will better suit your online casino needs.
Webtv can not handle really big files. Most flash casino software is too much for Webtv to handle and can cause your system to automatically shut off. If you are trying to play a casino site that offers Flash and causes your system to shut off you will not be able to play at that site. Typically, if the files are more than 255K your system will shut off. This will not harm your Webtv but it can be a nuissance.
Updates to the Webtv casinos are made available as they come out.