Review of PICclub for Poker Players
Using PicClub to Deposit
PicClub (picclub.com) is an online poker deposit option designed to give US citizens a means to deposit into online poker sites, legally as explained to us by their lawyers. We explain why Pic-Club believes their services to be UIGEA compliant below. In this review we will also explain what poker sites accept Pic-Club, fees, funding options, and a real life example of how it works.
Real Life Example
First you register at any site that uses Pic-Club listed above. After that you register at picclub.com for an account. It's quick with the verification process taking about 30 minutes on their end. It's been getting better as they grow.
Ok, lets say you deposit $100. Your money goes directly into your Pic-club account.  Everytime you deposit they take out $1 and put it into a common shares account. So now you have $99 in your account. To make it legal Pic Club holds these "shares" which you can not play poker with. It's still your money but they don't allow you to play poker with it. That gives you $99 to play poker with out of your initial $100.
Just put in an extra buck if you want to make things rounded. In 2008 players supposedly earned 8% on money they had in their picclub account.
Let's say you win $100 at the tables and decide to cashout. Pic-Club will charge you 1% of your winnings (not sure if they still do this).  Half a percent goes toward your "shares" which can't be used to play poker with and the other half is a fee so you actually profited $99.50.  You can only withdraw your money back to PicClub to cashout or use at another site.  Of course once the money is back into Picclub you can cashout from there.
Excluded US States
Illinois
Louisiana
Washington
Pic-Club Deposit Options and Fees
Credit cards charged 5% fee
Visa
MasterCard
American Express
Discover Card
Bank of America (coming soon)
E-echecks & Western Union
Pic-Club Withdraw Fees
(Max of one $2500 withdraw per day)
Check Withdraw – Free
Check Withdraw via Fed-ex – $25
Wire Transfer Fee – $45
Company Check – $0
Money Order- $15
Certified Check – $15
ACH Withdraw – 13% fee
Inside Pic-Club
Ok, so after you get your Pic-club account set up it's about as straight forward as possible.  First you deposit money into Pic-Club.  They use all credit cards from American Express, Discovercard, Mastercard, Visa etc to echecks so depositing is absolutely no problem.  Here is an example of what it would look like if you were to fund your pic-club account via a credit card.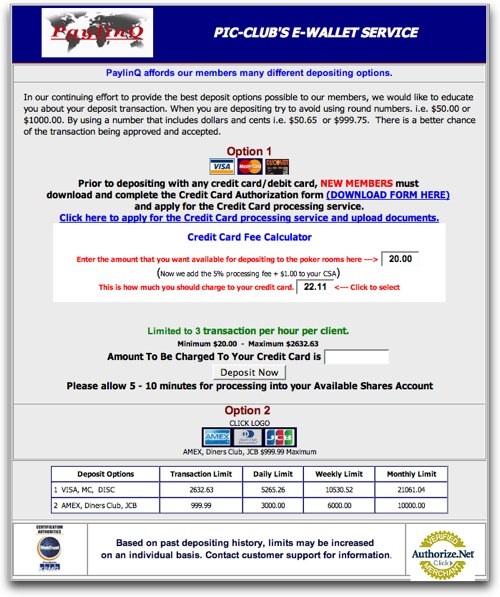 Now it's Time to Play
Ok, so hopefully your deposit went through without any problems.  The next step is to choose "Make a deposit" in the Pic-club lobby.  You choose a site you want and it loads it to the poker room as shown below.  That's it, you're ready to play.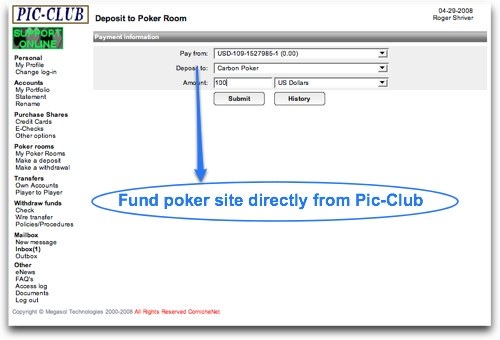 How Pic-Club legally works?
Pic-club uses a method of buying shares in a pooled commodities investment company licensed by Uruguay. The funds are indirectly transferred to a poker site thus making it legal according to Pic club lawyers. Pic Club can withstand any legal attack the UIGEA might throw at them according to a lawyer who did some work for Pic-Club.
PICclub Support
They are actually very helpful.  Apparently they only hire ex-poker players so that the customer support knows what the players want.  When speaking to them I felt they knew what I wanted and were very helpful in explaining how things worked.  They also have live support which is a must for this company that can be complicated at first.
Reviewed by Roger
Related Poker deposit options
Poker eChecks
Western Union
American express poker

Compatiblepoker and owners of this site is not associated, affiliated, nor do we endorse Pic club.  This is just a review of the website and services.  We are not responsible for any lost monies or legal action that may result from using this company.